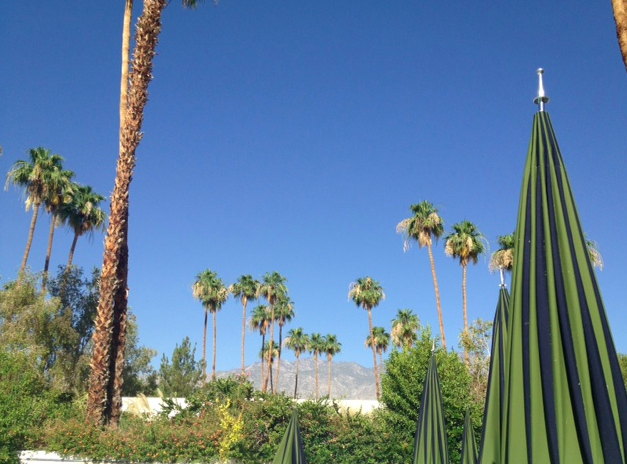 I didn't write on the technical 7th day of our trip because I was too busy doing absolutely (but drinking Parker Cooladas) at The Parker pool. Then I didn't write on the technical 8th day of our trip because I was too busy recovering from doing absolutely nothing (but drinking Parker Cooladas, and dirty martinis, and free red wine, and EATING SMORES) at The Parker Pool. And so here we are officially back home in Los Angeles for a combo final installation in this over-share of a series.
Day 7 saw the last real push of driving, a long overdue stop, and the world's great hotel room, in our world at least. Day 8 saw the pool, the car, and R carrying me over the threshold (a tradition he had never heard of in his life, which is UNBELIEVABLE, but I already married him so there's nothing we can do about it.)
DAY 7
Williams, AZ —> Palm Springs, CA
DAY 8
Palm Spring, CA —> Los Angeles, CA
DETOURS (on Day 7)*
8:00AM Cracker Barrel breakfast, finally
12:00pm arrival, Parker Palm Springs
8:30pm dinner Mr. Parker
10:30pm smores, The Parker Fire Pit
*no, we didn't go anywhere once we arrived at The Parker, and neither should you
DETOURS (on Day 8)
12:30pm lunch at Norma's at The Parker (still there!)
3:30pm visit to the Los Angeles Post Office in an attempt to pick up our held mail…
4:30pm Hertz car return
5:30pm massages at Touch in Beverly Hills (because, duh)
7:30pm dinner at Haru Sushi Cafe, the last dinner we had as un-married people in LA
PLAY BY PLAY-ISH
No road trip is complete without a stop at the Cracker Barrel, and we waited until the very end to savor ours. It did not disappoint (specifically the biscuits), and I somehow managed to refrain from purchasing the 125 items that I desperately wanted from the Country Store for absolutely no reason.
No road trip is complete without a one night stay at a truly outrageous hotel. It should be the last night for obvious reasons, and it should have a killer pool.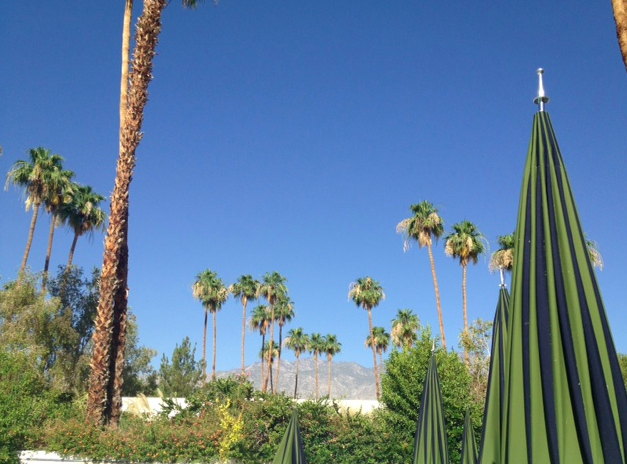 We told lots of people that we were newlyweds along the trip but only one drunk guy at the pool bar at The Parker treated us to two Parker Cooladas (like Pina Coloda's but with three times more rum). We will remember him always. We will remember the 20 minutes that followed downing those drinks never.
Our room had a mini private beach and a hammock. #actualbrag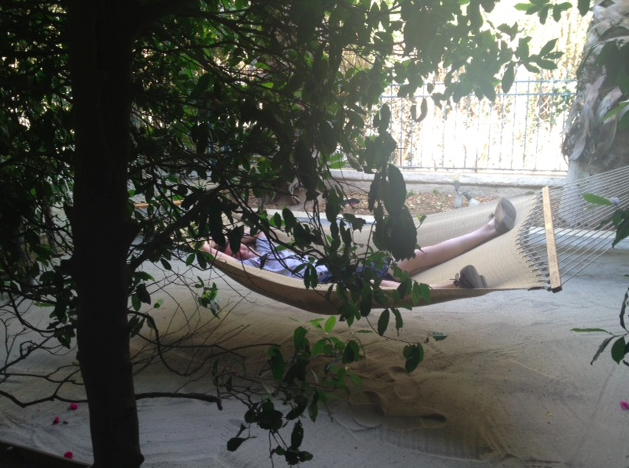 On the last night of our honeymoon across America we ordered smores at The Parker fire pit and ate them while looking at the stars and listening to the final hour of someone elses' wedding taking place on the property. If I wrote that scene into a script someone would say it was too "on the nose."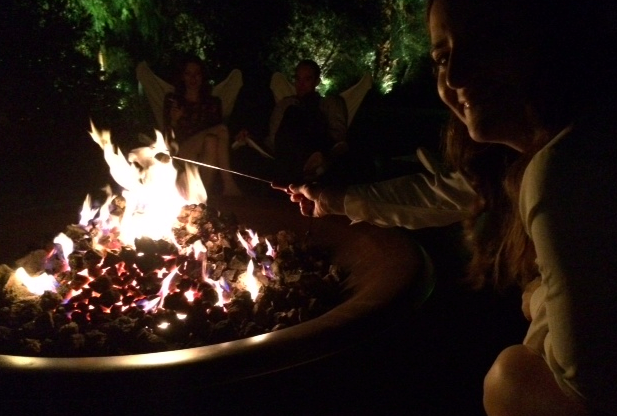 And finally, this whole thing was everything we wanted and more (food mostly, but also fun). Drive across the country if you have the time, and if you don't have the time, make it. You don't know your country until you travel across it in a mid-sized sedan, and you don't know your life partner until they serve as your co-pilot. Luckily I knew enough about mine to feel safe marrying him before the trip, but I'd marry him twice now that I know how he handles eight days in a car…with me.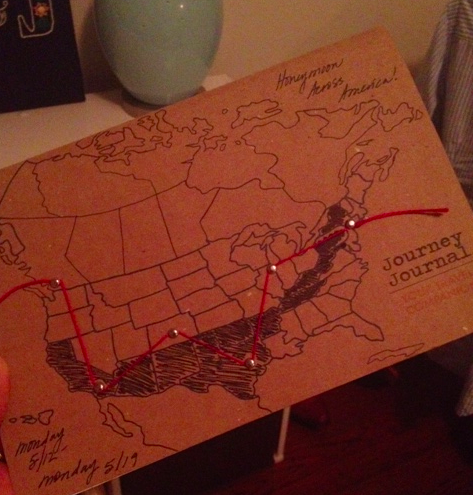 thanks to Mike + John for the awesome book we filled out religiously!
SHOUT OUTS
We'd like to thank the following people, places and things for making this trip possible
Hertz! The Kia Optima drove like a dream, and next to our iPhones, was the single most important element of the trip.
The Hannukah Face Wash. On the very first day of the trip I realized I'd left my travel-sized face wash back in Hudson and R realized he grossly underestimated the amount of face wash necessary for two weeks of travel. And yet for 8 whole days – by the grace of God and Neutrogena – that Oil Free Acne continued to clean our faces, morning and night. This year we'll honor it by placing it next to our Menorah during Hannukah.
The Hannukah Chocolate Chip Cookies. The day before the very first day of the trip R's sister Ali gifted us a bag of her world famous chocolate chip cookies. Logic, science and our collective appetites suggested that those cookies stood no chance against all the elements of the trip, and yet for 8 whole days – by the grace of God and butter – those Toll House wonders continued to feed us, one half each per day. This year we'll make Ali send us some to eat on Hannukah. Thanks Al!
The invention of time zones. Things were not looking good for us early in the morning on Day 3. We desperately wanted to see The Clinton Library, but even at a healthy speed over the speed limit and no bathroom breaks, it wasn't looking good. Then the time changed. This is less a miracle and more a very obvious fact that we completely forgot, so we won't be honoring it at Hannukah or any other holiday, but we're still really grateful.
Everyone at Starwood Hotels. Every single time we told a Starwood Hotel employee that we were on our honeymoon, we got an upgraded room. That is service.
The inventors of Instgrams, without which we would not have been able to over-share every single moment of our trip.
Doug, Eeda, Lauren, Rose, Jennifer and the rest of the team at Touch Pilates, without which we could not have been in good enough shape to eat absolutely anything we wanted for 8 days straight without gaining so much weight that none of our clothes fit.
And finally, our parents, for raising us to be the kind of kids who can stay incredibly well-behaved over the course of eight days in the car, even if one of us used two moments instead of one…
NEXT STOP, LIFE.
Though we just learned that this weekend is Memorial Day Weekend,
and we're thinking about taking a road trip…