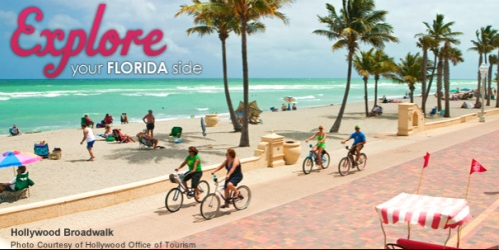 Tomorrow I leave for the very incredible opportunity to experience the iHeartRadio Ultimate Pool Party in Miami Florida (at the very incredible Fontainebleau Miami Beach). My trip is sponsored by VISIT FLORIDA, a group entrusting me to bring the journey from my laptop to your living room (slash iPhone) in as vivid detail as my bullet-point recaps can bring. Much like the #honeymoonacrossamerica, you can expect riveting observations, candid commentary and my favorite photos, regardless of whether or not they make sense in the context of the post!
But this trip also means I'll be traveling sans R or any other individuals that I know. Fellow bloggers will also be covering the event, the VISIT FLORIDA team will be fully involved as will the iHeartRadio peeps, and I'm sure a Fontainebleau employee or two will enter the mix. But as of now all of these people are strangers meaning I'll be forced to do what adults outside a college setting without real jobs rarely if ever have to do: make new friends.
I'll be honest; I'm a little nervous.
Yes, I'm friendly. Yes, I'm social. Yes, I spend my days making up things for people to say. But it's been a long time since I combined all those skills into me coming up with friendly things to say in a new social setting. I spend most of my alone time these days (as in the five minutes before R arrives to the restaurant where we're meeting) scrolling through any one of the twenty apps I keep on my phone specifically for this awkward moment. The idea of having to hear myself explain myself over and over again is intimidating. Who am I in a fifteen second intro or less? How soon do I mentioned that I just got a husband…that I aspire to write for television and film…that I also freelance in the fashion world…that I'm a lefty?
Tricky as it seems in my head right now, there's something I love about the flying solo part of this adventure. It's not often slash ever that I get to think about who I am and how I want to explain that to brand new people. If not for Google I could be whatever far more awesome version of myself I can cook up over a five hour flight to Florida (already I know she'd have a slight midwestern accent and wink a lot. People love people with both those qualities).
But if I must be myself and use that self to make fast friends, then a music festival in sunny Florida (followed by an additional adventure I'll get to later on) isn't a shabby way to practice. Wish me luck. Two minutes after meeting me in the second grade a group of kids took to calling me "Nosey Rosey" so it's got to go better than that.