"I couldn't tell if you were in Santa Fe, the Ozarks, or the '70s!" one friend said in response to my string of live #bdadventure photos. The answer is E. none of the above. I was trolling around Topanga Canyon right here in LA.
Every year I celebrate surviving another 365 with a solo day of indulgence. Last year I had lunch with a friend, got my make-up done and went to see 20 Feet From Stardom. Why did I get my make-up done and then sit alone in a movie theater for two hours? Because it's my damn day!
This year I decided to take my show on the road with an afternoon of reading, writing and shopping just a short drive up the PCH (or 101 depending on traffic and which direction you're coming from, but let's not make this a Californians sketch).
It just so happened to be my very first day back to buying things after a three month hiatus so I wanted a spot with unique shops where I could, as R approved, go wild.
Topanga is the name of the settled community of Topanga Canyon which sits inside the Santa Monica mountain range. If you are familiar with the California town of Ojai, think of Topanga like Ojai minus the yuppies and 50% of the businesses. If you are not, think of it like a untouched hippie enclave on top of a mountain ten miles from Beverly Hills. If that's impossible to imagine then you've just given yourself a very good reason to go to Topanga Canyon for the day. Though, if I were you I would go for a month, take up the lute and wear nothing but Stevie Knicks costumes (and I might…).
Here is how it all magically went down: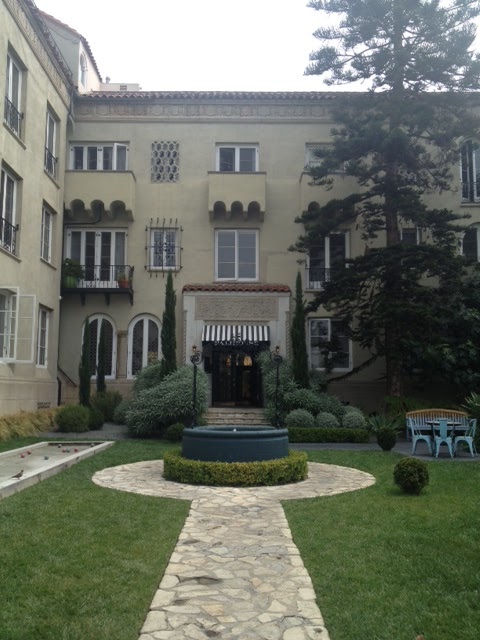 The start: attempted coffee at Palihotel, Santa Monica
I started the day off by traveling from mid-city to Santa Monica where I would ultimately jump on the Pacific Coast Highway up to Topanga. On the way I thought I'd stop at the new Palihotel in Santa Monica for a coffee, bite and to write my birthday blog post. Unfortunately despite having a massive lobby with ample coffees and bites for sale, the Palihotel of Santa Monica does not let you sit down or even buy a beverage unless you are a hotel guest. Apparently it has something to do with laws and zoning, but I think it's a big, big mistake considering there was not a soul in the space.
Actual start: coffee at demitasse, Santa Monica
And so I took myself right down to the street to a lovely little spot where they not only let me sit but gave me the world's most delicious almond croissant (my favorite of the flavored croissant offerings) for a discount because it was my birthday. Birthday + good karma = discounts, always.
Stop 1: Hidden Treasures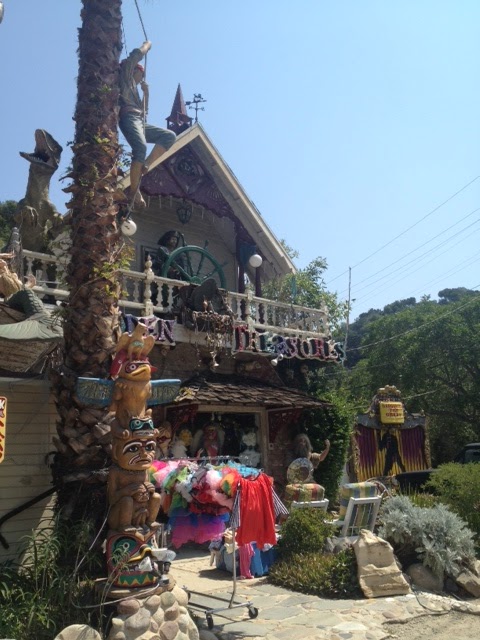 This half Victorian house that may or may not also be a pirate ship is among the first spots you hit upon arriving in the "business district" of Topanga, and it is a mecca of vintage finds. Within my first ten minutes inside I snagged a Pucci halter dress for $30, a Cosby chic floral skirt for $1.75 and a cami-style capelet for $15. If you speak vintage shopping/Jessie then you know that's all very good.
Stop 2: Bouboulina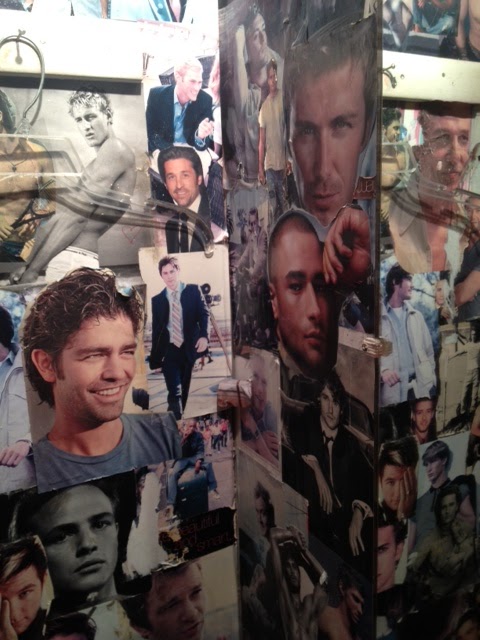 Next was what some call the hippie dress mecca of Topanga, which is saying a lot because that's pretty much all anyone sells. At Bouboulina I found more tie-dye than I've seen since Girl Scout Camp and dozens of dresses for tall, thin people like Kate Hudson or Kate Moss or Kate of Kate & Ally. Some of the styles were on the pricey side but there is a great sale rack plus they have this heartthrob-smattered dressing room (not Adrian Grenier. I just couldn't frame him out of the photo).
Stop 3: Heyoka Hideout
This is the stop I was most excited about because it is the studio of the Jessica Alba and Vanessa Hudgens-backed brand Heyoka Leather and I, like all humans, am a sucker for things that are celebrity endorsed. I didn't end up buying any leather because I was hot and it was expensive but I did get a really gnarly tank with the company logo on it, mostly in case I ever see Jessica Alba or Vanessa Hudgens anywhere. Though it's getting pretty old wearing this thing every day…
Stop 4: Inn of the Seventh Ray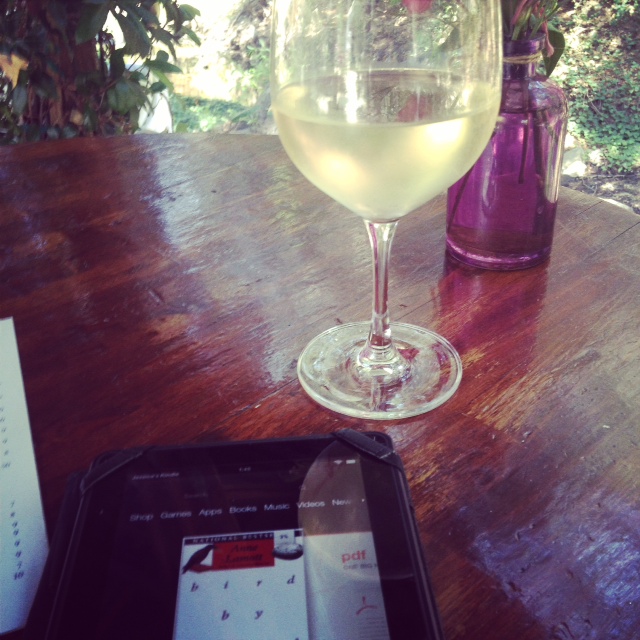 The whole trip was organized around a long and leisurely lunch at this precious little spot that sits on a precious little creek. It's everything I love in a restaurant: gorgeous location, amazing history, organic fare, major kitsch, a store attached, and, above all, a cold cucumber and avocado soup that I didn't know about going in but now count among the top reasons to go. I sat for two hours and read Bird by Bird because it's part of my 31st year of life curriculum while the two people next to me got drunk and talked about how great the '70s were in the canyon. It was bliss.
Stop 5: Pebbles Clothing
Next I made a quick, one-glass-of-wine-induced stop at the Topanga location of this Santa Monica-based kids and adults clothing store where they sell the most Santa Monica-style kids and adult clothing I've ever seen. For those unfamiliar, that's this: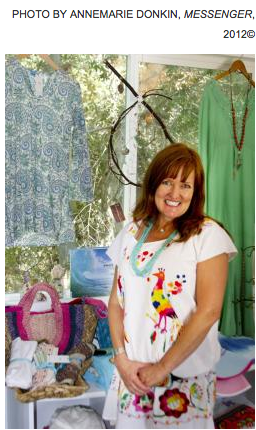 store owner Ann!
I bought a great beaded necklace with hints of neon yellow because, while I don't live in Santa Monica, I do go there sometimes.
Stop 6: hillbilly hip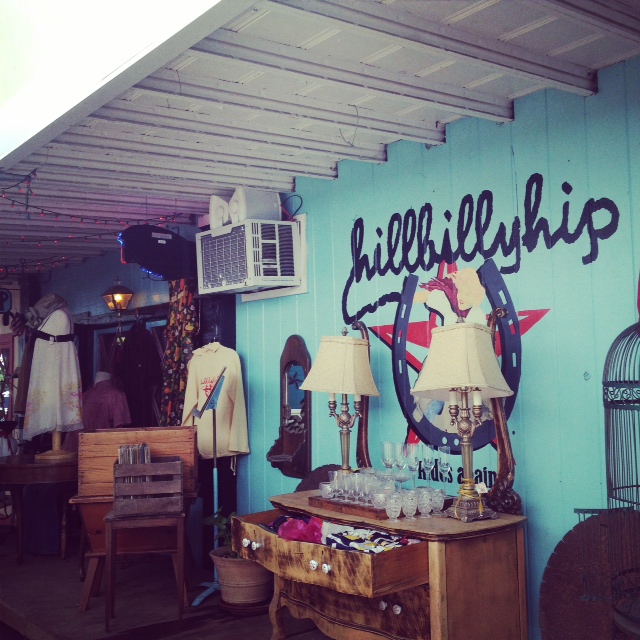 The last stop of the day featured a $2 vintage bin, a local turf war ("if she comes in here that'll be the end of her!") and a woman with rainbow-colored hair who told me that I need to know my moon sign as a Leo because it's, "pretty much guides life from this point forward." It's worth noting that she was the fourth person to comment on my astrology throughout the day. The conversation went something like this every single place I visited:
Shopkeeper: Hi there. I don't know you. What brings you here?
Me: Oh! It's my birthday so I'm on a shopping adventure!
Shopkeeper: Ahh…a Leo. Very powerful sign… What's your (rising sign/moon sign/time of birth/mother's sign/husband's sign/goal in life)?
And that's what so great about Topanga.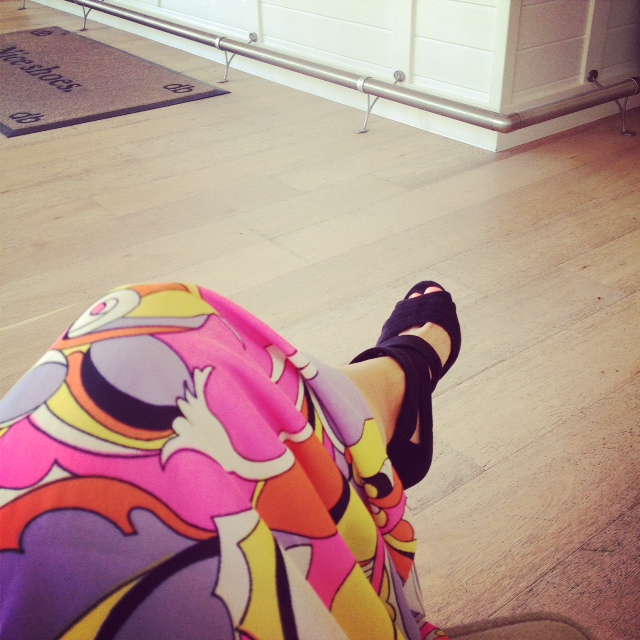 That and this killer Laugh In dress I got for $2 in the Hidden Treasures bin.
I think I'll start celebrating my half birthday moving forward…