As you know, I can fall a tad on the confident side. I think I know how to handle my business best by myself – from planning a wedding to planning an Emmy Awards outfit. Sometimes I do (see wedding) and sometimes I don't (see Emmys, though to be clear it was the shopping not ultimately deciding that was complete and utter crazy town).

Our honeymoon fell into the false confidence side of the divide. The plan was South East Asian for two full weeks, and I was sure that between friends who have been there and the Internet, R and I could cull together the trip of a lifetime. Then I remembered that I've never planned the trip of a lifetime, don't know the first thing about traveling around South East Asia and barely have time to eat lunch most days. Enter Aly of JetawayGuru, world traveler and world traveling consultant extraordinaire.

Today I thought a good old-fashioned FAQ with Aly would be the best way to learn what a travel consultant is and how one might save your life/marriage.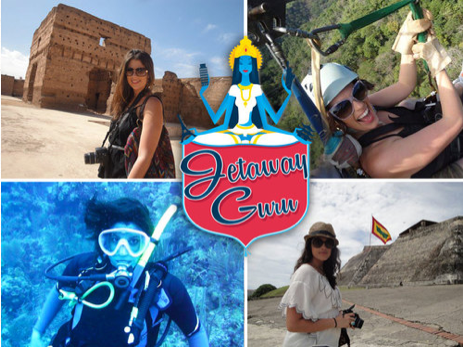 Adorable.


1. Easy one first: how did you get into working as a travel consultant? A year and a 1/2 ago I turned the big 3-0 and had a quarter life crisis. Yes, I will admit it! I was working as a graphic designer for 10 years, at multiple places, and while I love design and being creative, the atmosphere for most jobs are not. Usually a cubical, stark white walls and the mentality that if you were physically at the office you were working, which wasn't usually the case.
I was bored and would surf the web, shop online, book travel or daydream about my next adventures. Most of my money has always gone straight to travel as it is my passion (I've been to almost 40 countries!). The feeling of culture shock or being in a foreign place is a unique and exhilarating high. Eating different and flavorful foods, learning about cultures and their beautiful beliefs, and interesting history etc… I really do believe travel is one the the most life-affirming things you can do for yourself. Getting lost in the world is what life is all about.
So, a few months before my birthday I was introduced to the non profit http://www.buildanest.org. Nest partners with artisans from all over the world to build sustainable businesses within the competitive global economy, helping them transform their communities through the alleviation of modern slavery and empowerment of women. I loved the message they spread and what they were doing around the world. Nest offered fellowships all over the world, many having to do with design. I told myself if I applied and I got it, I would quit my job and go. I applied and was assigned a sustainable package design fellowship in Swaziland, Africa! A small country located inside of South Africa.
Then, I had to think what to do when I got back from my adventure. I decided to hire a career coach, www.selfinthecity.com, to help figure out my next move.
Friends and family had always come to me for travel research or advice, so thought why not get paid for it.
Not going to lie, it was tough at first. I didn't know the first thing about how the travel industry worked, but my coach, Anna, helped build my confidence to jump in. My design skills were a heaven sent as I could brand, create and design all my own logos, website and business cards. Through networking I met Michel, a travel agent that had a similar story, leaving a totally different career (in his case
finance
) to get into the travel industry. He taught me the basics and after two weeks of my site going live, to my disbelief, I had my first paying client, a honeymoon to India.
2. What is your goal in helping people plan their trip? Or I guess, how do you feel your unique position as a consultant offers people something they really can't manage on their own?
I help clients get more out of their travel experiences and hence more out of life. There is so much information out there it is hard to know where to begin your research, or even to narrow down what part of the world to visit.
I also help my clients' vacation quality (if that makes sense), as I now have partnerships with hotels, cruises and destinations, everywhere. I can offer some great free perks and amenities to them such as upgrades, hotel credits, complementary breakfasts to even a free massage sometimes. I also can get some great deals clients couldn't necessarily get like stay for 4 nights and pay 3 at some hotels depending on the time of year. All depends on where and when.
3. But all travel research is so easy to do online, no? Why a travel consultant if you could just do it all yourself?
As a travel consultant I do many things such as giving clients the confidence to travel to that exotic destination they always dreamed of going, or doing to tedious research of which neighborhood to stay in, or logistically what is the best method to travel and which is more important time or money, as that can me a hard decision.
Also busy people just don't have the time to sit down and plan a vacation of a lifetime! It takes a lot of emailing back and forth, sometimes waking up at all hours of the night to call different countries around the world, going to the bank to do a wire transfer, figure out what restaurants to eat at and making the reservation.
Also, first hand experience is key. Again, I have been to almost 40 countries, so usually I have it, but if not I have a network of travel consultants from all over the world, and usually one of them has been to the destination in question.
I also create custom itineraries for each client. I start by emailing a questionnaire to them and have them fill it out. From there I look at all the answers and help them decide where to go. Maybe they are planning a trip to Italy, but say they have always dreamed of wandering the streets of Paris! I will consult and suggest why not add that 2nd leg of the trip, you're already in Europe!
After the destinations are finalized and approved, I can build a timeline and figure out how to get to point A to point B. After, I compile a list of hotels I think that will not only match their budget but also their style and needs. And finally, the fun begins, what to do while on vacation! I will research and narrow down sights and excursion reviews and only send highest rated, where to eat and make the reservations.
Once everything is approved and booked, I take all the bookings and design the itinerary. I break it down by day or locations and insert all the important information, times, dates, pictures, phone numbers. I add fun facts and quick tips and even embed websites, blogs and tailor made walking tours into it. All you do is open it on your computer, smart phone or tablet and you have your personalized choose-your-own adventure story! It's great and a lot of fun! Clients love it as its just for them, no two itineraries are alike.
4. Your pre-travel questionnaire is awesome and extensive. What does this help you learn about the traveler?
Helps me decide where clients should go, what type of hotel they like to stay in, their likes and dislikes, how adventurous they are, eating habits and importantly budget. The questionnaire is not only written questions but you choose which image of travel appeals to you. I'm am a visual person so I think it says a lot.
It's important to know your clients on a personal level as vacations, and especially honeymoons, are so intimate. They may think they just want to sit around on the water in Bora Bora, but actually a more active island like Fiji or Hawaii would be a better fit. Or maybe budget becomes the most important factor so we figure out the best location for the money.


5. Why a flat fee for payment?
A few reasons.
1. I can always put my clients first. As the travel industry works off of commission, I don't need to send them to the most expensive property. I can keep their budget in mind and not have to worry about getting paid. A perfect example of this is, I had a client wanting to go to South Africa and went to 2 travel agents before they found me, and they both quoted her $30k + for the entire trip, which is outrageous! Since clients pay me a consulting fee of $600, I can find you exactly what you are looking for and offer you those cool deals like stay 4 pay 3 deals I mentioned before. Also, you would think that all hotels and tour companies would want to pay us a commission for sending them clients, but that is not always the case. There are a lot of hotels that refuse to pay travel agents a commission or smaller properties that just don't. Asking for a fee eliminates having to worry about where to put my clients and whether or not I will get paid.
2. Research is a lot of work. It can take hours to figure out all the logistics, and I would be doing this all for free if I relied on commission alone. Most people do not work for free, I know I don't want to.
3. It's hard to make money in this industry and not be totally overwhelmed. Making 10% of a vacation not including air or transportation and most tours, doesn't come out to a lot. This way I don't need to constantly be looking for new clients, I can focus on the ones I have and still pay my rent!
6. You are now a successful small business owner! How has your life changed/been enhanced by the decision to pursue this personal passion as a career?
It takes some getting used to not making the salary I was making as a designer, but now that I am focusing on my passion, I am not as bored and don't find myself frivolously spending money. I get to learn about cool destinations around the world and feel great about myself when I hear positive feed back from clients or get thank you packages and letter. My goal was to travel for free and my career now has helped me accomplish my goal. This year I have traveled to Fiji, Panama and Charleston and am going to Mexico City, Aruba and Vietnam! Yay!
Conclusion: Once in a blue moon I use this space to share a product or service that I've come across and really support, and Aly's business falls into that category. Over the coming months we'll be digging into planning a belated South East Asian honeymoon (with R's help too I guess), so stay-tuned for more posts on that full experience.