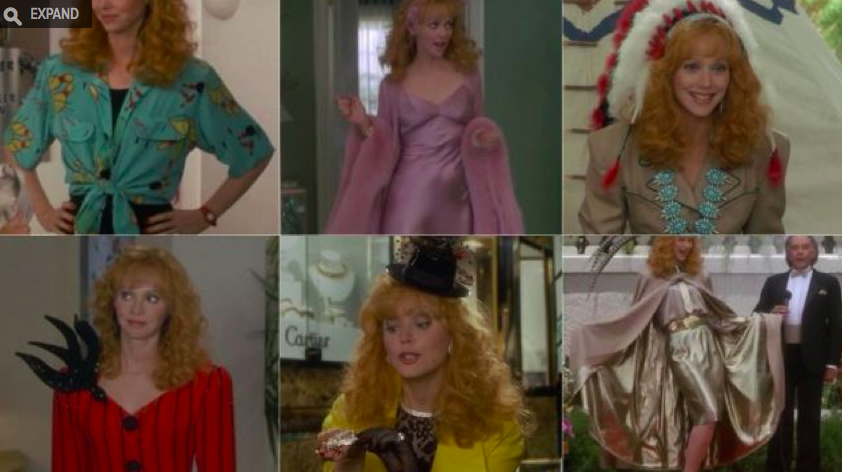 God bless the people over at Jezebel for this piece of Internet gold, specifically writer Lindy West who, based on this article, receives immediate honorary admission into the Rosen family (don't accept Lindy; we're a real handful).
I love Troop Beverly Hills, written by three. genius. ladies. to the degree that I still sing "Cookie Time" in its entirety every time Girl Scouts, cookies or Pia Zadora are mentioned and cannot utter the words, "Beverly Hills," without adding, "what a thrill!" which is tricky because I live in L.A. Also when some people were like, "who is this Jenny Lewis person?" I was like, "shut your mouth you monster, she was Hannah Nefler and her bangs were legendary."
And so I am particularly happy to bring you this rainbow of happiness to get you through the worst day of the week. Let's all raise a glass of champs for costume designer Theadora Van Runkle (who has the world's best job and name) and enjoy a trip down memory lane.
My personal favorite among the collection:
"It's khaki wishes and cookie dreams!"
My personal favorite quote of the movie:
Tessa DiBlasio
: [Stomping out Phyllis's cigarette ash] Mrs. Nefler! We're above the fire line! And you shouldn't smoke, it's bad for you. And it conceals neurosis you should deal with yourself.
Lily Marcigan
: Smokey Bear says, "Only you can prevent forest fires."
Phyllis
: Well, Smokey Bear isn't going through a horribly messy divorce!
The hands-down best scene of them all:
And finally, yes, Rosa is Rosario from Will & Grace.
GOD this movie is the best. Enjoy!