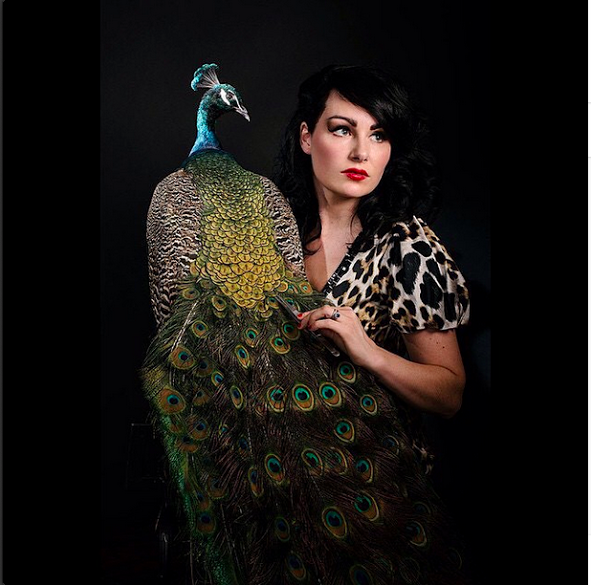 …with my friend and L.A.'s hottest taxidermist: Allis Marham
Allis is the owner of Prey Taxidermy studio in Downtown LA, a taxidermist at the Natural History Museum of Los Angeles, and probably the only human pin-up model who would totally dominate should the world go full Mad Max.  Seriously, she's the ultimate modern girl scout troop leader: she can throw her hair in victory rolls, butcher a chicken faster than your grandma, knows what a "life straw" is, and recently spent a weekend off-roading in the Mexican desert on a dinosaur dig. And those are just her hobbies.
I wanted to shed a little light on the lost art that Allis has turned into a thriving business, and I wanted to encourage you to check out the Kickstarter campaign raising funds for a documentary following Allis and her students through their journey to the World Championship of Taxidermy. Here is Allis' contribution to our 7 THINGS series!
You've got to be basically Marie Curie to do this.Allis started working at the Natural History Museum in LA a few years ago, where she and her boss – taxidermy legend Tim Bovard – handle the dioramas from start to finish, every weasel, wolf, and twig. Allis knows biology, zoology, ornithology – just to hit the top -ologies – nevermind the chemistry, physics, and basic engineering she's got to use.
Bird Law is crazy!Maybe the only thing more complicated is Tax Code, but that's got sort of a bigger audience. Take a "freezer tour" at Allis' studio, and you're going to see one of probably the largest private collections of exotic bird specimens in the country, and let me tell you – it didn't come easy. Since Allis works at a museum, she's got access to all kinds of species that normal people would go to jail for having. Ask her about her birds of prey…
Bird eyes look just like blueberries. You'd never know it until you got inside, but it's like, a really spot-on descriptor. Also surprising is how comfortable you'll still be around blueberries.
It drives its own Burning Man-style no-waste economy. Everyone's always like, "where do you get the animals, Allis???" Good question, everyone. They're all ethically sourced, first of all. You want a good source, you make some friends at zoos, it helps to know a falconer or two, and make yourself a regular at area pet shops. All the animals died of natural causes, or as a result of abatement or de-predation… like if they were pests, or non-native killers of the locals. Some specimens go to science, other may have been hunted and, hey you know meat? Yeah, you eat it? So let's say you taxidermy a quail – you've also got dinner.
There's at least three ways to skin a cat and you've probably seen the results. A lot of the work done at Prey is for film and TV shoots. Even though they don't get their own "in memoriam," (they totally should) animal actors die just like the rest of us. They've got a life after death, though, preserved as taxidermy and appearing as a sleeping cat or dog on set. Just add "Hollywood Taxidermist" to your list of dream jobs now, it's cool.
The ladies love it. Any given

Sunday

at Prey, you'll find Allis and enough ladies for at least a volleyball team (probably with alternates) gathered around a table, just talking, and laughing, and drinking wine. Oh, and skinning animals. It's the new book club.
There's a World Championship of it, and the ladies of Prey are going for the first time this year. It only happens every two years, and people come from all over the world to compete. Seriously, it's like Best in Showonly real. You can't make this stuff up.