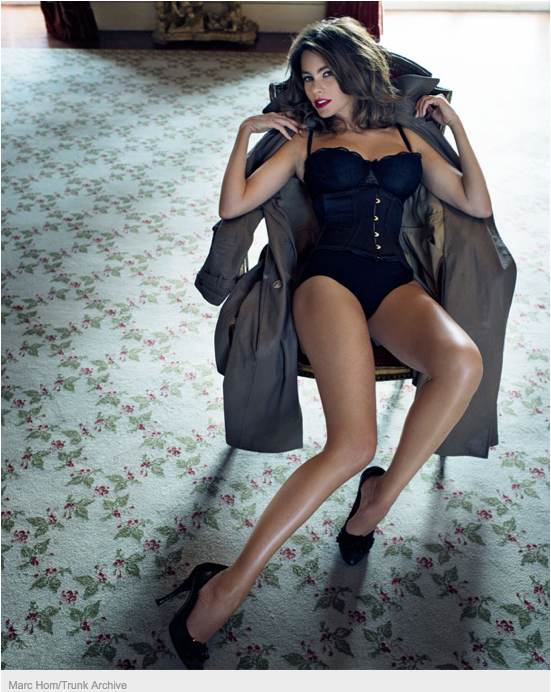 I tend to keep quiet about the more divisive gender issues that hit the media (unless they're the Duke Sex List scandal or the Lena Dunham photoshopping issue…), but I had a very specific reaction to this whole Esquire "In Praise of 42-Year-Old Women" thing that I didn't see represented much on the Interwebs so I thought I may as well join the fray.
Recap for those unfamiliar
FIRST, Tom Junod, a celebrated journalist, wrote a piece entitled "In Praise of 42-Year-Old" women about how this year's hottest age on the Esquire "ranking of the ages" is 42 because 42-year-old women are hotter, more interesting and more confident than ever. That's paraphrasing so please read the full piece if it interests you. Here's one great section:
Let's face it: There used to be something tragic about even the most beautiful forty-two-year-old woman. With half her life still ahead of her, she was deemed to be at the end of something—namely, everything society valued in her, other than her success as a mother. If she remained sexual, she was either predatory or desperate; if she remained beautiful, what gave her beauty force was the fact of its fading. And if she remained alone… well, then God help her.
THEN, many women of the Internet reacted negatively saying things like, "thanks for saying we're finally interesting at 42," and, "so you're saying previous 42-year-old women sucked?" and also, "stop telling us what we're like!" Here is one of my favorite pieces by Sarah Miller over at The Hairpin, and here's a fun quote:
And according to Junod what makes me hot isn't just being hot, it's that, unlike other women who just haven't had all this time, I also finally figured out how to be sort of interesting.
OF COURSE some men of the Internet reacted negatively to that negative reaction saying things like, "why can't you just take a compliment?" and, "can a man write anything positive about women without getting lambasted?"
AND FINALLY, somebody really funny (who I know personally!!!) wrote "In Praise of 42-Year-Old Jared Leto." You go Elizabeth Donnelly!
(Honorable mention goes to Tricia Romano for her expertly executed "In Praise of 42-Year-Old Men" I don't know her personally, but I'd really like to)
NOW MY THOUGHTS

At first I wanted to react by saying, hey men, just stop writing about when, how, why and at what age we women are good/hot/sexy/interesting, and we'll stop calling you out for generalizing our existence. But that's not realistic and it means women would have to stop writing about how all men in their 20s are babies who think with their dicks (which they actually aren't).
Then I wanted to say, girls, just stop pretending that Esquire's "occasional ranking of ages" actually means something and take it for what it is, a ploy to get the Internet's panties in a major bunch. But that's not fair because a lot of people are reading this article so therefore it matters in terms of the larger conversation about image and identity (I think…).
So finally, I arrived at my bottom line frustration with this whole thing – don't show me four pictures of incredibly gorgeous, age-defying celebrities whose job it is to look and act in a way that is enviable to women and enticing to men and call that the state of the 42-year-old woman. I love Sofia Vergara as much as the next girl, but she is not my role model nor should she be. She is just one woman, like the rest of us.
I don't hate the piece by any means. It raises interesting issues about the state of women's rights, sexuality and confidence today, even if it does include this really weird section: Go to a party: There is simply no one as unclothed as a forty-two-year-old woman in a summer dress. For all her toughness, and humor, and smarts, you know exactly what she looks like, without the advantage of knowing who she is.
But I do feel obligated to call bull-shit on the "this is 42" thing. Write me an article about how the media drives women (and men) to act and look younger for much longer than ever before. That's interesting. I'd even be cool with a piece about real 42-year-old women doing "age-defying" things. Feel free to throw on celebrity in there for good measure.
What we have here is an opinion piece by one man generalizing all women at one age. And just because that is ridiculous doesn't mean we have to laugh it off.