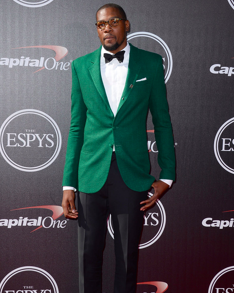 Last night I got the very cool chance to attend the 2014 ESPY Awards because R is a professional athlete. Surprise!
Kidding, though he was recently the first pick for a backyard volleyball game among a group of fairly athletic people.
I was at the ESPY's because R's business is doing business with the people who do the ESPY's. I can't share those details but just know it's a cool enough project to land us seats directly next to the entire Auburn football team (War Eagle! But also, what?! That makes no sense).
I found the ESPY's to be moving on many levels and not just because I'll cry at any awards show montage where people realize their dreams against a backdrop of powerful indie music. Before I get to my grand realization inspired by sports' biggest night, here are a few basic observations:
Male athletes can pull off the craziest suit blazers. Not one or two but three of them wore an emerald green situation like this one on KD (that's what we sports people call him).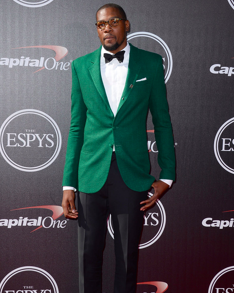 Michael Sam was given the Arthur Ashe Award for Courage for being the very first football player to go into the NFL draft as an openly gay man (if not the first openly gay American professional American football player. I need to do a comprehensive Google). This seems both totally insane (that it took this long) and totally logical (given the assumed nature of male-dominated sports in America). I will now count seeing that as one of the most important moments of my own life.
Maria Sharapova is the tallest woman I have ever seen.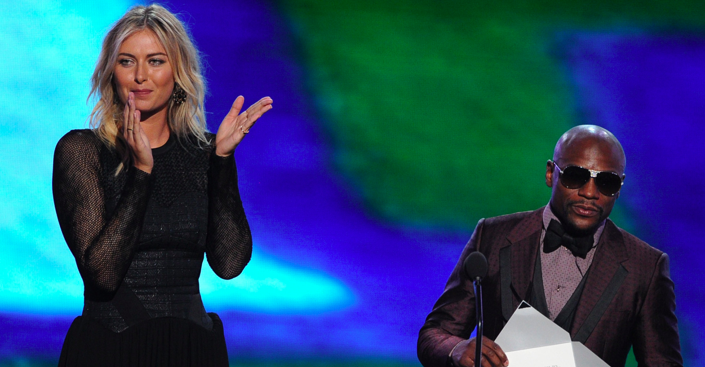 It's really awkward to react to something naturally when you know you're on live television. I have a lot more respect for Matt Lauer today.
The Miller FORTUNE is a very delicious beer now available whenever you buy alcohol. That's not a paid endorsement; I really did enjoy the bourbon-inspired taste.
Winning is really, really great, especially in slow motion.
But now, as promised, here is my #1 takeaway from watching two plus hours of the greatest sports moments from the past year: I want an announcer calling the play-by-play that is my life.
Do you know what any athletic event would be like without the incredibly motivating play-by-play of one or two professional sports watching people? Boring.
I realize the players can't hear the call as they are playing, but if they could I think they would play 100 to 110% better. It is so intense when the guy is like, "Here's James coming down the court. My GOD would you look at that stride! He's unstoppable! Folks, you're witnessing greatness here. Jim, can you remember a time in your life when you saw such raw talent?!"
These players don't even have to hear the call live. All they need to do is DVR the game and watch it later for months worth of motivation. The same applies to negative feedback. "I don't think he can do it, Jim. What do you think? Well Bob, it's not looking good. He just can't seem to get there today. The question is…will he ever?"
If I were a pro athlete I would be like, "Oh yeah Statler and Waldorf?! WATCH THIS!" (except I wouldn't make a Muppets reference because I would be much cooler as a pro athlete).
With some guy or girl calling every moment of my day there's no telling what I'd get done.
"Here's Jessie popping out another solid scene. My GOD would you look at that joke! She's hysterical! Folks, you're witnessing greatness here. Jim, can you remember a time in your life when you saw someone write that funny of a couplet without stopping for 45 minutes to check Facebook?" Or it could be the equally motivating, "I don't think she's got it in her today, Jim. What do you think? Well Bob, it's not looking good. She has watched three, back-to-back episodes of Dawson's Creek this morning, and as you know those puppies are a hour. The question is…will she ever…get off the couch?"
If this is not already an app then it should be so please excuse me while I go make a bagillion dollars.
So in closing I'd like to thank ESPN and the ESPY producers for leading me to this very important life realization and also for inviting one of my all-time favorite So You Think You Can Dance contestants, Cyrus, to last night's show. Yes, I tracked a dance reality show participant down in a room full of the world's hottest professional athletes, told him I loved him and asked him for a picture. Maybe it's a good thing I haven't invented that life play-by-play app just yet…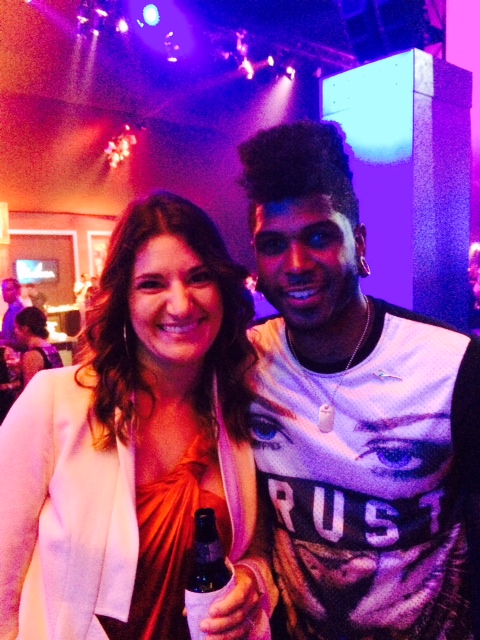 So You Think You Can BE AWESOME!