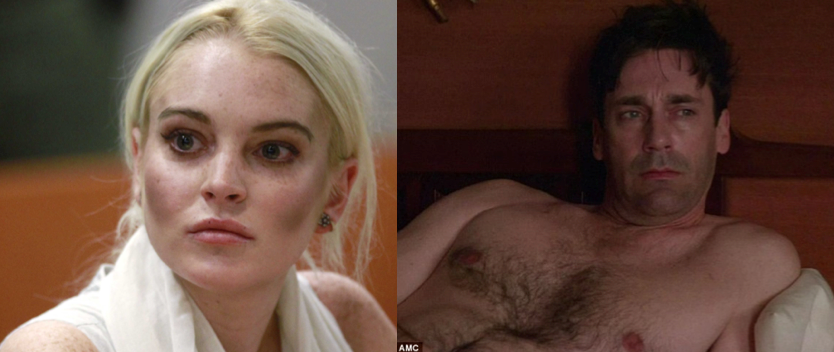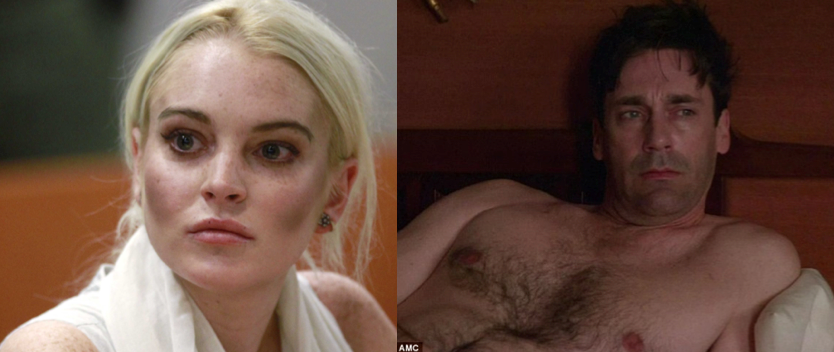 WARNING: THIS POST CONTAINS A MILLION SPOILER ALERTS
Sunday night I watched the second episode of Mad Men on AMC and season finale of Lindsay on OWN. Yes, three hours of television in one night when I should obviously have been updating all dozen plus of my wedding status grids. So you can imagine my frustration as both programs came to an end, and I found myself screaming almost the exact same things:
"What in God's name is wrong with him/her?!?!"
And then, "All he/she does it lie!!!"
And finally, "He/She is never, ever going to change!!!"
Guys, Lilo and Drape (never to be a Disney animated feature, sadly), are the exact. same. person. Nevermind the fact that one of them is a fictionalized man living in the almost 1970s and one is an all-too-real "woman" living in the now (slash past, but that's a different story). They have a total lack of accountability, can't exist in a world that doesn't revolve around them, and wouldn't know the truth if it showed up at their apartment in the form of either a 13-year-old kid or professional life coach (can you believe she fired that woman?!).
Don, do you really need your pubescent daughter (despite her old man eye brows) to consistently make you attempt to come clean about what a disaster your life has become??
Linds, the guy shoots with natural light, and if you hadn't shown up one day and 4 hours late for the shoot, he would have had that light!
Don, cut the crap with Megan. She doesn't love you either.
Linds, fire your agents and consider opening up a second hand clothing store inside your apartment. They're not going to get you jobs because you don't deserve jobs.
I have had it with these two! Though, at least Don is more sincere in his attempt to convince the world that he wants to change his life. Lindsay is such a bad liar that it's making me wonder how she ever had an acting career.
I firmly believe that if Don were Lindsay and Lindsay were Don, Don would be Lindsay and Lindsay would be Don. If that doesn't make sense then you haven't watched enough of either show.
Regrading the series finale of Mad Men, I am curious but not hopeful. It would be strange for the story to end in any other way than it's plotted on all along, with Don as the villain in a story he wrote but can't seem to control. Regarding the season finale of Lindsay, did she just drop a miscarriage bomb with an awkward smile as the line before the last line of the entire show?!
I want to feel nothing but pity for both these characters. They're both the product of a sad and broken up bringing. But in the eternal words of Oprah to Lindsay during that scene where O had to drive all the way to Long Island to tell LiLo to cut the bullshit, "It's your life. Don't you want to win?"
I think they both do, but I'm not sure either knows how to make that happen, and they don't seem interested in really listening to the help they need to get there.