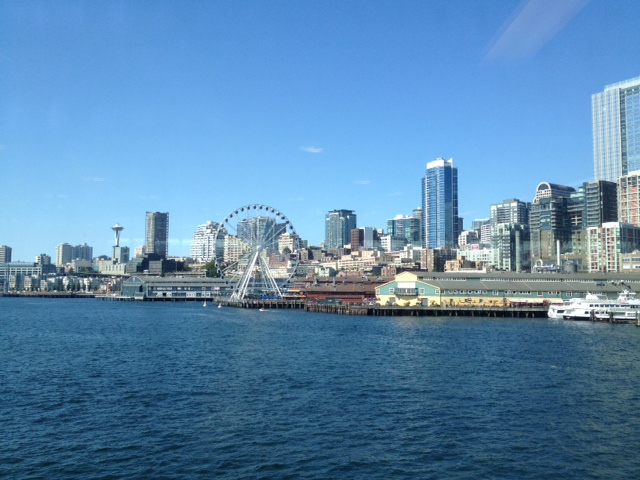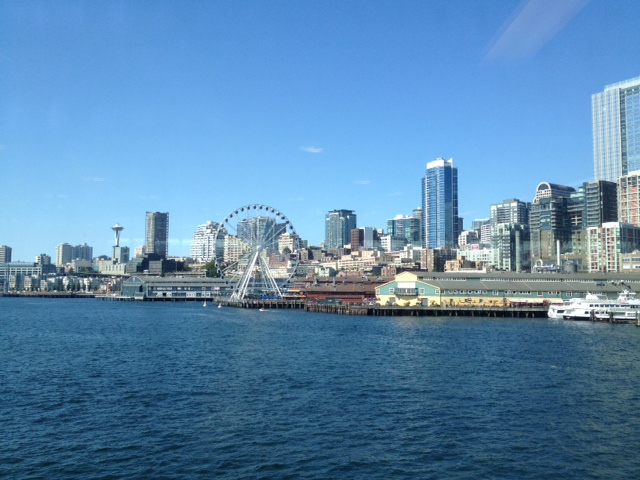 view from the ferry to Bainbridge Island
I have longed to travel to the great city of Seattle since I first watched Meg Ryan creep on Tom Hanks and his son flying kites on that picturesque beach. Now after 68.5 hours spent in the city where one man was famously sleepless, I can say that it is just as incredible as Nora Ephron and Kurt Cobain made it look, separately.
My time was too packed to break it down on an event-by-event basis (read: I'm embarrassed to admit how much I ate all day every day), so here is a random collection of highlights, learnings, great moments and must-eats.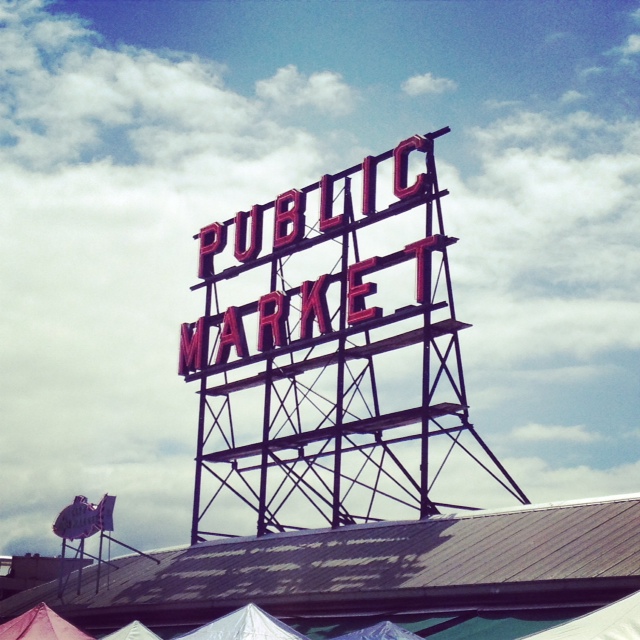 Pike Place Market is as great as they say, if not better. The quality of the food, people-watching and general environment is far superior to all other water front food markets I've visited in my day, and I love a water front food market. Here is everything I ate/drank. Over the course of how much time?! you ask? Don't worry about it.
Pike Place Fish Market (where they throw the fish) – smoked salmon sample (killer)
Emmett Watson's Oyster Bar – oysters on the half shell, shellfish gumbo
Piroshky-Piroshky – salmon, beef + onion, almond Piroshky (for Red on OITNB!)
Pike Place Bagel Cafe – salmon, cream cheese, tomato and onion on everything bagel
Daily Dozen Donuts – cinnamon and maple bacon doughnut (two varieties, perfection)
Mee Sum Pastry – pork bao, curry beef bao, some kind of pot stickers (my fave)
The Crumpet Shop – ham egg and cheese on a crumpet (biscuit meets an English muffin!)
Rachel's Ginger Beer – white peach ginger beer (incredible)
The Tasting Room at Pike Place – Washington State wine flight
Beecher's Handmade Cheese – the world's best mac n' cheese (though I found it runny)
Mt. Townsend Creamery – raw goat milk, no joke (tastes like liquid goat cheese!)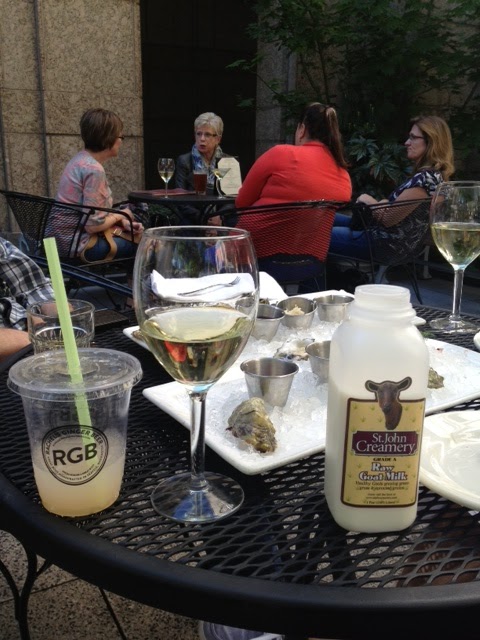 just your typical ginger beer, chardonnay, oyster and raw goat milk Happy Hour
No one told me how hilly Seattle can be from 1st to 6th Avenue in the center of Downtown. We're talking San Francisco hills, if not worse. But more importantly, no one also told me that it's only that hilly for about four blocks and you can totally avoid it if you just walk to Pike and head up instead of staying on Madison. My calves will never be the same.
If you love shellfish then you must do one thing and one thing only when you are in Seattle: visit Taylor Oyster Bar in the Lower Queen Anne neighborhood (they also have a new location in Capitol Hill). I ate the freshest oysters I've ever eaten AND my very first geoduck, which is the weird clam penis you see below. It was incredible. I wish I'd found it on Friday so I could have gone back on Saturday and Sunday.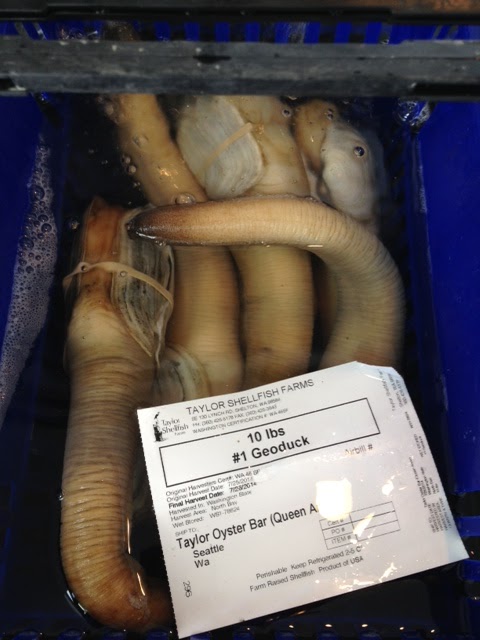 tastes like clam cartilage!
When in the Emerald City, make a point to see one of the many gorgeous islands. I did Bainbridge because that's where the wedding that brought us to Seattle in the first place was located. It was magical in an Americana meets the best of the French Riviera but also Portland, Maine kind of way, and I tried not to leave. Also congrats Clel and Mike and see you again very soon because I'm in love with your city but mostly Taylor Oyster Bar!
Honey lavender ice cream at Molly Moon's. Don't ask questions just go there and eat it.
My friend Paul – an incredibly talented musical theater professional soon to star in A Chorus Line at Seattle's 5th Ave – toured us around Capitol Hill which is the sort of Chelsea, NY/West Hollywood, CA of Seattle with a little Williamsburg, BK/Los Feliz, LA mixed in. Whilst there we stumbled upon a drag queen softball tournament, and now we are all more complete humans.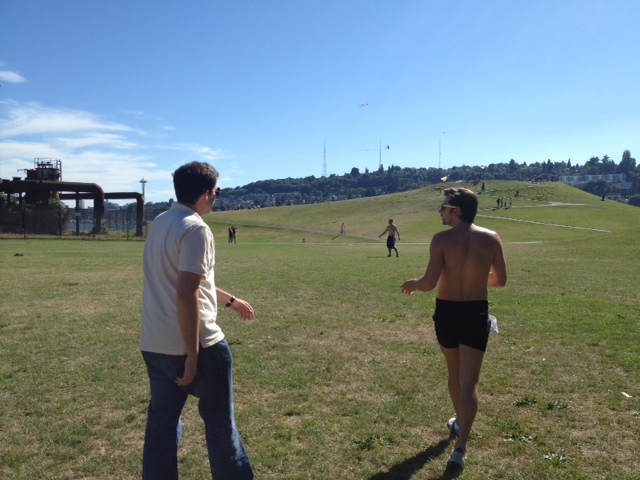 one of these men is Paul, the other is my husband. Guess which!
The Space Needle is really gorgeous looking but we didn't go up inside because we wanted to see the Nirvana exhibit at The EMP Museum. If you love music or culture or Frank Gehry buildings, you should make that choice too. Also, you can't see the needle from the needle, and the view of the needle is really the best part. That said, if you go you can avoid the ticket lines and save $2 by downloading the Space Needle app to buy.


didn't even try for that sun flare!
In the end I loved Seattle because it was calm, clean, filled with seafood and 2.5 hours from Los Angeles. You can see it in a weekend but would have plenty to explore (and eat) in a week if not more. I'm told we had the best weather weekend the city has seen in a very long time, so you're welcome, Seattle, but I think I'd be just as into you with some of the famous misty rain. That's just how much I love seafood.
Thanks to the new Mr. and Mrs. for their incredible city guide, @VisitSeattle for help along the way, Eric for making us run everywhere so we had more time at Taylor Shellfish, Paul for the perfect Sunday, Uber for being everywhere and R for never telling me it was time to cool it on the raw oysters.