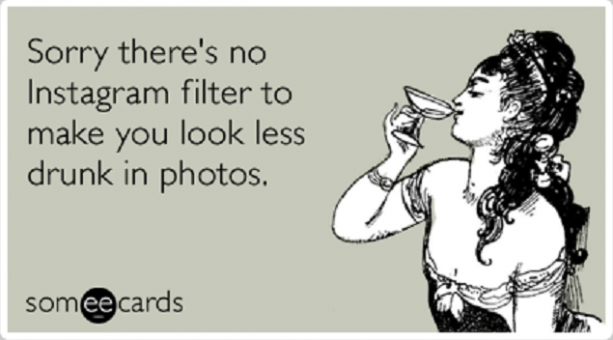 In less than two weeks my littlest sister, Alex, will turn 21.
[
Yes, very close to my birthday. Five stars for careful reading, reader!
]
Like me, she will ring in her ability to legally drink alcohol on the Jersey Shore with college friends, high school friends and our parents. Unlike me, she will not consume nine shots at the stroke of midnight rendering her useless for the next eighteen hours because I'm publicly begging her not to. Don't do it Alex!!! And I'm sorry Carly and Michael…still.
Here is a list of 21 other things I think she should know about that devil drink we call booze.
Nine shots in ten minutes will not make you drunk. It will make you asleep.
There's a point where it doesn't matter if you're drinking beer before liquor or liquor before beer, you will not be in the clear.  Learn that fast.
You should either always trust what your heart is telling you after a few drinks or never trust what your heart is telling you after a few drinks. Learn that faster.
You drink a Bud heavy if and only if there is absolutely nothing else to drink.
Ask for the martini in a high ball glass, save thousands of dollars in dry cleaning bills.
You know that point where you're thinking (often out loud), "I've had a lot to drink, but I'm not drunk yet!" You're wrong.
If your sobriety is actually in question, take yourself to the bathroom and sit down on the toilet. Then you'll know.
I am so very sorry to say this, but the Cosmopolitan is over. That does not mean you can't drink them, but if you're drinking one sos to look very hip, the opposite is occurring.
There is about a 100 calorie difference between a vodka tonic and a vodka soda. So if you are dieting, skip the tonic. If you are not, calm down and enjoy your life.
You can't drink a Long Island Iced Tea after the age of 22 unless you do so ironically.
Before age 27, red wine will make you feel very, very sexy. After age 27, red wine will make you feel very, very sleep.
Looking to get into brown liquors? Good for you! They're delish and give you a lot more drunk for your buck. Start with bourbon then progress to whiskey before heading into scotch. No, dark rum doesn't count.
Try not to fall victim to the great open bar illusion. These current free drinks don't count against future drinks you'll have to buy so just calm down.
One shot of tequila does not equal one mixed drink. The mixed drink has the mixer to buffer the drunk. The tequila has that tiny lime wedge that's always too dry to excrete any liquid anyway.
When being wildly peer-pressured into taking yet another shot of Jager it is totally acceptable to throw that shot over your shoulder and make like it went down rough. Just look behind you first.
"Blacking out is just how my body handles too much alcohol," is not an OK statement. You drink far too much. Get that in check.
My hangover remedy is as follows: Drinkwel before I drink. Drinkwel before I go to bed. One giant glass of OJ with Lyteshow when I wake up. You are welcome to it, but know that it doesn't work after more than four martinis, nor does anything Note: that is not a paid endorsement for Drinkwel or Lyteshow. Both companies are run by my friend Mike, and I truly stand by their product.
The absolute best way to manage a night of drinking is that age old advice: one serving of alcohol, one serving of water. But don't do it if bathrooms are few and far between or you're wearing a wedding dress…
Ruffies are still real. Take your drink to the bathroom with you or chug it before you go.
Everclear is for children and alcoholics.
And above all, remember this – nobody ever woke up the morning after a night of drinking and said, "damn, shoulda' had one more drink!"
What did I forget, friends?
 
AND, HAPPY ALMOST BIRTHDAY ALEX!