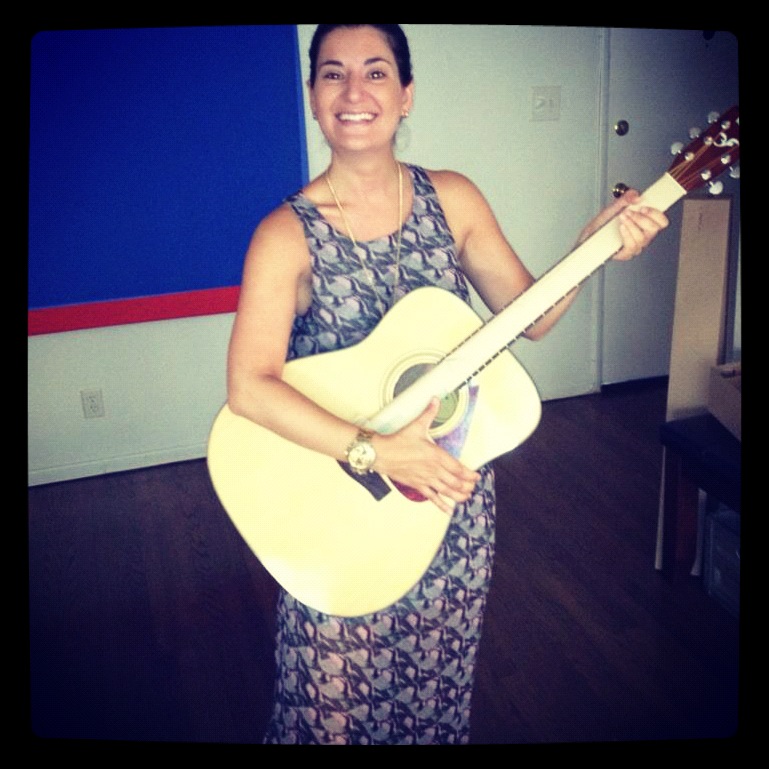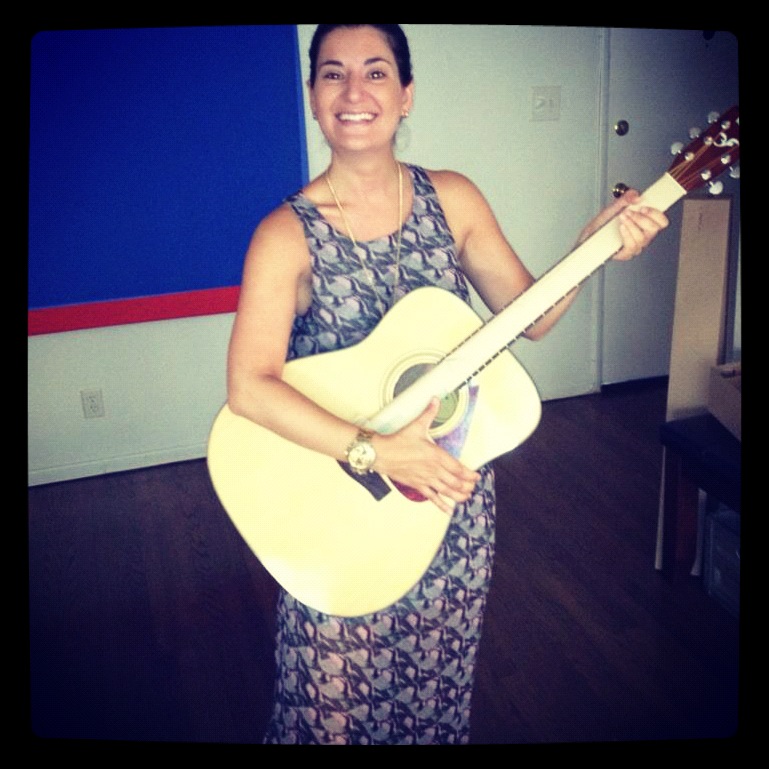 this is how you hold this thing, right?
Tomorrow I will take my very first guitar lesson.
Well, technically I took one guitar lesson a year and a half ago for a video series my friend was shooting about trying out new skills. That pre-lesson prompted R to get me a guitar for my 30th birthday (last August) and guitar lessons for Christmas (last December). Now it is this August, literally seven days from the one year anniversary of the day I got a guitar, and I have not taken a single lesson. Once I tried to learn cords using the learn cords CD that came with my guitar, but I got frustrated after ten minutes and put on House Hunters International instead. So on account of my impatience and the HGTV network, I cannot play the guitar.
Yet.
I decided to call and finally redeem my guitar lessons because I just received an unsolicited gift from a company called The Department of Motivation. It is a sleek black poster with white words in a san serif font that read: DREAM BIG. START SMALL. BUT MOST OF ALL, START.
Turns out the founder of this clever poster company reads this blog and felt that inspiring saying applied to my ongoing life process. Little did he know I've had a dusty guitar sitting in the corner of my apartment for a year. But I could not ignore this, "god wink," as my mom would say, even if it felt like more of a "god guilt."
"Oh wow. I thought maybe you died," the guy I'll be taking my guitar lessons said when I called to redeem the gift certificate. I didn't ask whether he thought that because no one could be so lazy as to ignore a gift certificate for damn near a year or because only death should prevent someone from learning the guitar. Either way I was not in the right. Also, bold way to start a relationship Stephan. I think you and I are going to get along just fine.
"It's been a busy year," I replied, which it has been, but that's not why I didn't call. I have time for guitar lessons. We all do. You can get them on YouTube, take them while you're eating a meal and practice on the toilet if it comes to it. "I'm too busy," is just, "I don't want to make this a priority right now." And the reason I didn't is because I'm afraid it will be too hard and I will be terrible, and then I'll never be able to sing lullabies to my hypothetical babies (in my mind it's a medley of "Blackbird" by The Beatles, "You Can Close Your Eyes" by James Taylor and "Loves Me Like a Rock" by Paul Simon, but I'm open to whatever else R wants to throw in, within reason).
The list of things I'm truly awesome at is dwindling now that no one's asking me to do the V-sit and Reach for the Presidential Physical Fitness Award and puff paint shirts are out. The idea of struggling through learning something brand new isn't wildly appealing. Right now I need all the confidence I can get to struggle through the things I'm currently struggling through. A struggle hobby seems like no hobby at all. I'm good at organizing my closet, making arugula-based salads and telling people where to eat in New York and LA. Isn't that enough of a way to bide my time, forever?
I think the answer is, no. I think they say hobbies that challenge the mind prevent Alzheimers? At the very least they keep the mind sharp and provide a distraction from every day stresses, that is if you can get through the every day stresses of learning them.
For me that's TBD. I hope to one day get up from struggling through some miserable scene I'm writing to revive myself with a little "Angel from Montgomery" by John Prine (but covered brilliantly by Bonnie Raitt) on my six string. I hope to entertain a dinner party in my back yard with a little sing-a-long once we're all buzzed enough to not find that awkward. I don't think I'll become one of those people who takes their axe with them on weekend trips, which may or may not involve camp fires, but don't hate me if I do.
But tomorrow at 10am I will start very, very small and probably feel even smaller. BUT not as small as I'd feel if I let that Guitar Lessons by Stephan certificate sit in my desk drawer one day longer. Especially since between starting to write this blog post and finishing it I learned that R did not get me my guitar for my 30th birthday; he got it for my 29th. I'm lucky Stephan's still alive too.