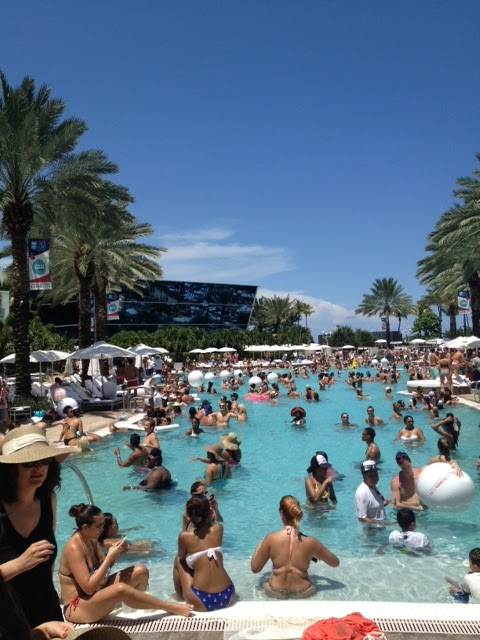 The rest of my time in Miami was as times in Miami tend to go (I now know), totally over-the-top, incredibly decadent, and mostly spent at a pool. Saturday day featured the iHeartRadio ultimate pool party, which looked like this: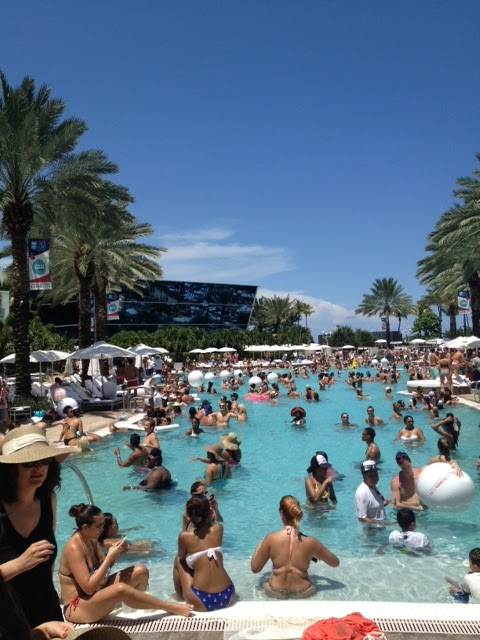 Saturday night featured a Ham-Hattan (bacon-infused bourbon) plus the rest of whatever goes in a Manhattan aka the Jon Hamm meets Don Draper of cocktails, which looked like this: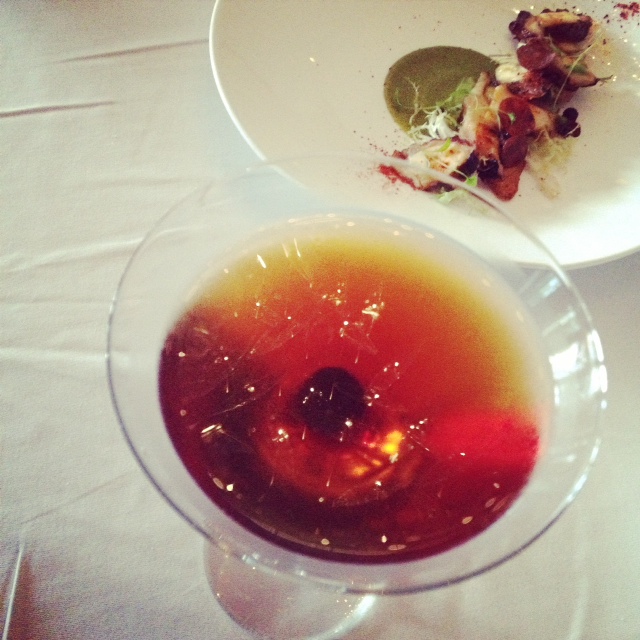 And Saturday after hours featured these absolutely incredible bracelets that light up with the beat of the music. The geniuses at VISIT FLORIDA provided them for the eve, so if there way any questions as to the general quality of this state, the answer is, genius. They looked like this: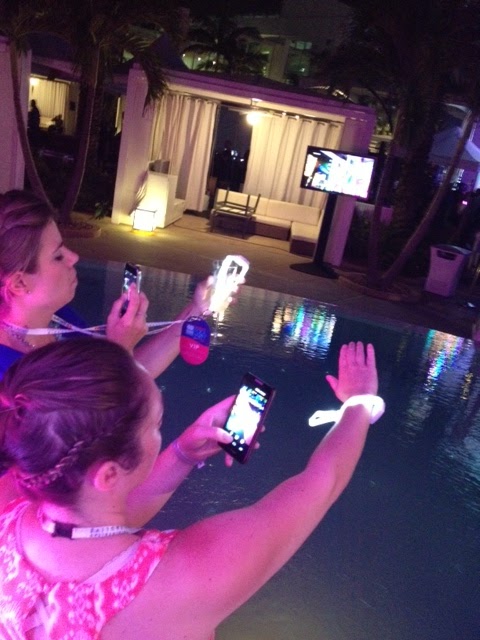 P.S. Jennifer Lopez is a god among women who puts on a show that is somehow as down-to-earth and charming as it is jam-packed with hunky Adonises, Fly Girl dance moves and Versace body suits (aka the opposite of down-to-earth). I loved it so much.
But my time was up in the city where the heat is on (because humidity didn't fit Will Smith's beat) on Sunday morning when I set sail (in a Hyundai Accent) for Key West, part two of the adventure. We'll do this like we did the #honeymoonacrossamerica (but much sadder because we're without R).
DAY 3: Miami Beach, Fl to Key West, FL
Detours:
(note: The Keys is best experienced as a string of detours that end up equaling a vacation).
Boardwalk Pizza – Obviously couldn't resist stopping for a slice of Jersey's finest, in southern most Florida. On the plus side, they got the colors of the state highway signs just right. On the minus, not so much the pizza, but it makes a fantastic second breakfast none the less. Sub sandwiches looked incredible. I didn't get to speak to the owner, but I imagine he is a guy named Sal originally from Bayonne and somehow my cousin.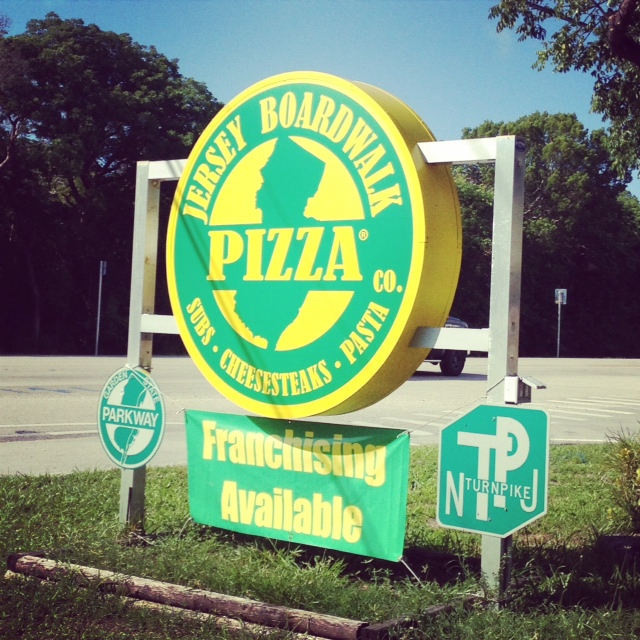 Robbie's of Islamorada – Robbie's is one of those places that both locals and tourists swear by, which is a rare and fun find. For $1 (you read that right), you can feed the Tarpin (which I was calling Turpin until five minutes ago). Tarpin are giant "fish" (because they're more like dragons that swim), which leap out of the water like the sea monster in The Princess Bride to snatch the fish out of your hand. It's so great! I don't have a video of myself doing this because I'm traveling alone and "can you take a video of me" seems like a big ask.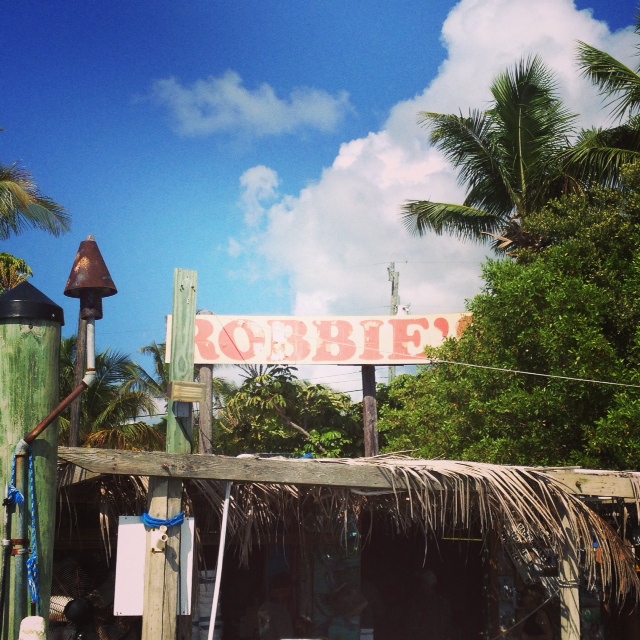 visible from route 1
actual size, giant
Finally made it to Key West for a first slice of Key Lime pie at Hogfish Bar and Grill, so named for the delicious hog fish (a flaky white with some sweetness not unlike a scallop), which I didn't know existed. They don't have a website because this is Key West. Just as someone on the street about it, and they'll point you in the right direction. What does have a website is Smilin' Bob's Smoked Fish Dip which you MUST FIND THE MOMENT YOU GET TO THE KEYS. It's sold in grocery stores here or at Hogfish. Eat it as much as possible, and then take some home. But this paragraph was supposed to be about the Key Lime pie, which is equally incredible.


it's not supposed to be lime-colored

And finally, our sweet little Inn just across the street from the Hemingway Home in Key West. You can walk all of Duvall Street (the Bourbon Street of Key West) and end up on Mallory Square (the Faneuil Hall of Key West) for a Sunset Celebration (the nightly circus show that isn't like anything, anywhere) from here.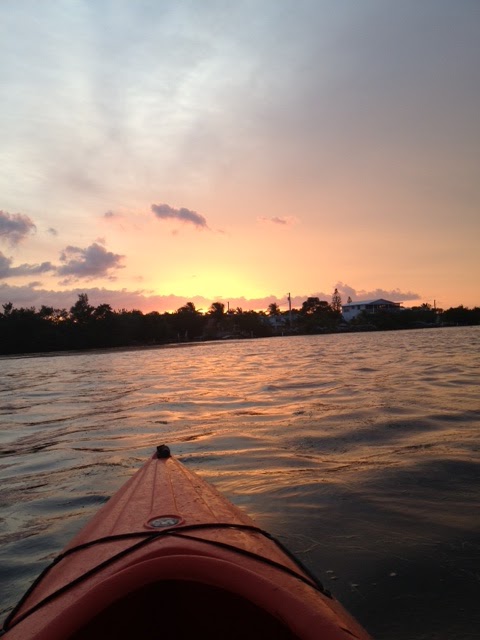 #photobrag
Observations
The fish-shaped mailbox is a requirement of The Florida Keys
The palm trees here have these wooden holders on the sides that look like palm tree leg braces. I'm told that's to help the young palms grow up to be tall and straight, which I find slightly discriminating.
Sandals Outlets are to the Keys as Cherokee Outlets are to the middle of the country. I didn't go to one because I'm involved in a very serious bet with R about how long I can go without buying clothing, shoes or accessories, but I wanted to very, very badly.
Route 1 is the highway between Miami and Key West. I call it a highway because that's what maps call it, but in reality it is a one lane road that looks like something out of Driving Miss Daisy II (yes, I know how it ends. It's just II because these are modern times, though slightly less modern in the Keys).
Today I asked a Florida Keys park ranger why he decided to apply for a position in The Keys and he said, "because I wasn't ready to enter the real world yet." He didn't mean the world outside park rangering; he meant the world outside this enchanted place that seems somehow trapped in time. I've been here for 48 hours, and I totally get it.