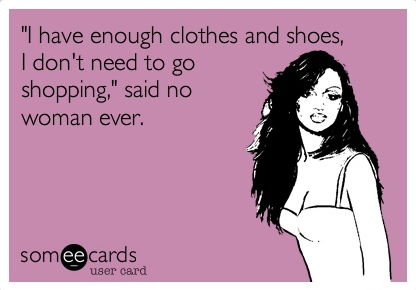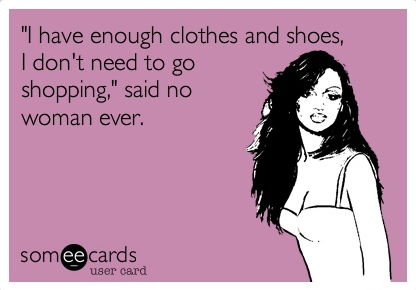 Don't ever say the following to your husband of ten days as you stand inside the walk-in closet you painstakingly cleaned for five hours:
Wow. I have so many clothes. I could go months without shopping.
Because then he'll say this:
And you'll say:
No really! I can, and I will.
And then he'll say:
And then you'll say:
And then you'll be me, a pride-filled idiot slugging through a three month ban on shopping for clothing, shoes and accessories. Yes, that's the extent of my stubbornity (a word?). I couldn't just stop at clothes, nooo; I had to prove my "strength" by giving up my precious shoes and accessories too. And for what? I already got the guy to marry me!
Well as of this Thursday, August 7th (my birthday) I will have won the bet. I will have gone three full months without purchasing a single clothing item, pair of shoes or accessory, and I'll have you know I attended two weddings inside that time frame. A few weeks ago R tried to get me on a technicality by arguing that I approached the purchase of these pitch perfect, mixed metallic folders by Nate Burkus for Target with a level of excitement and relief that made them clear contenders in the accessories category (also I said, "I need these to go with my general meetings outfits!!"), but I conferred with a dinner party full of people who said, "you're still fine," and thought, "but you're still the crazy one." I also purchased these equally delectable Flash Tattoos, which are mixed metallic (love a life theme) temporary tats in the shape of things like Aztec-ish arrows and very hip birds. Those really could be considered accessories of the skin variety, but I only tried on one and come on already!
So what has this exercise in restraint taught me about myself, my clothes and the consumer world at large. Not much! Here's what I've been able to cull together for the sake of this blog post and my pride:
I have plenty of clothes, shoes and accessories. Over the course of my three month challenge I actually got rid of things because I was so sick of going to look for something to wear and not picking the same things over and over again.
To that end it is better to have less than to have a whole pile of things you never wear. A. they take up space B. they make you feel bad about yourself if the issue is fit and C. when you complain that you, "have nothing to wear!" your husband looks at you like you're insane because there are dozens of items of clothing hanging in your closet.
I have a concernedly strong desire to have new things for no other reason than that I like having new things. R and I went to a wedding in Seattle. I wore a lovely gold lace dress that I have worn once prior, for three hours, with a completely different group of people. And yet I desperately wanted something new. I had a specific vision in my mind of how I would look on Bainbridge Island in Seattle, it didn't match this dress and that irked me to no end. It probably irked me more because I almost always give in to the desire to buy the new dress, so like a mosquito bite that couldn't be scratched, it itched worse. I don't love that feeling, and I'd like to be more careful about falling into the shiny ball trap in the future, bet or no bet.
And yet, bottom line, I love clothes, shoes and accessories! Oooh do I love them… I use them as a form of self expression. They make me feel comfortable and content. I find shopping for them soothing. Are they a vice? Sure at a time when I should be saving or spending on things we truly need. But in a world where Forever21 and H&M reign supreme (and at a walkable distance from my apartment), what's the harm? (that's rhetorical, R)
In the end I figure I saved about three hundred dollars? Maybe more considering there were two wedding guest dress purchases avoided. I will admit that my "itch" lessened over time, but that may be because I stopped going anywhere near stores. There was the one time R tried to push me in the direction of my favorite little shop on Sawtelle, Rimo, and I yelled, "No! stop! don't taunt me! I'm at the end of my rope!" but I was mostly kidding, maybe.
And so on Thursday, the official end of the bet, I will take one hundred dollars in cash on an afternoon shopping adventure to Topanga Canyon (thank you Racked LA). No more. No less. I don't need anything, still, but I've been in a flowy, '70s-inspired mood as of late.
Oh and regarding what I win in the bet – a brand new birthday dinner dress. So really I could get the '70s-inspired maxi dress a my gift and use the hundred for maybe a floral mini short and sheer-ish top combo with a pair of mixed metallic clogs? Ooh but then I'll need some sort of chunky Western-inspired belt to go with the shorts and maybe a head scarf to really complete the whole thing and god is it good to be back…