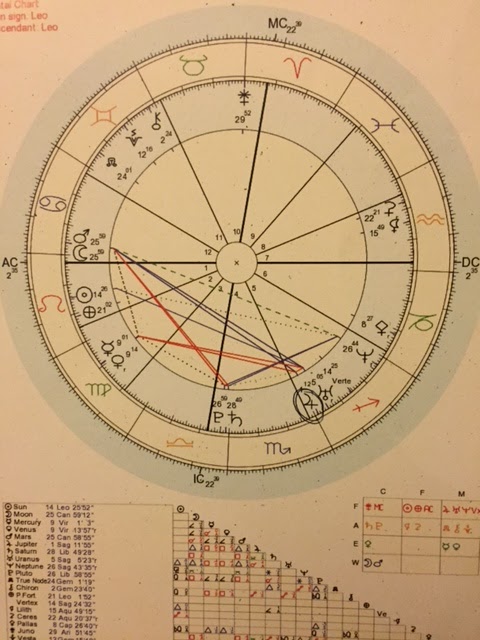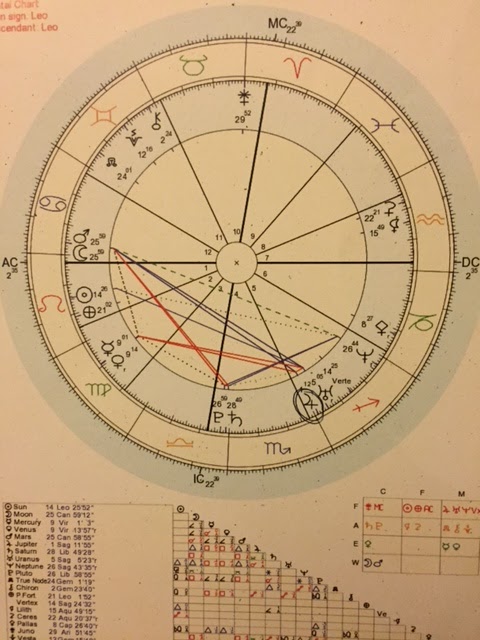 I have always been two things that don't compliment each other very well: a cynic and a searcher. I'm dying to know things about myself, the universe, and where the two meet, if in fact they do. Yet my need for certainty – the black and white way I can see the world – always gets in the way. I don't believe in things easily – everything from the value of therapy (which I've thankfully gotten over) to the existence of a higher power (which I'm still working on).

So you can imagine how I felt when I was introduced to an astrologer at a recent Sunday Night Sex Talks show. I was fascinated. I was dying to ask her 10,000 questions. I wanted to tell her right then and there that someone once figured out that I'm a Leo whose rising sign is also Leo (the only two things I know about astrology), and that I know that means something but I don't know what!!! And then the skepticism started to filter in…

This time, though, I pushed through. I reached out to Rose, my new and first astrologer friend, to see if she would be willing to do a reading so that I could better understand the practice. I forced the searcher to shut up the cynic, and I'm glad that I did.


It seems insanely grand to say that the hour and thirty minutes I spent with Rose as she read through my Natal Chart (more on that in a second) changed my life, but that is the truth, and I don't care if all the cynics out there – including me on most days – think that's ridiculous. As Rose puts it on her site:

"Each person has a unique path, astrology simply helps you to navigate. Astrology for me, is about choices and a path to change; it's a way to heal yourself, to move forward with confidence, dignity and self love."

That is a philosophy I can get behind, especially given the fascinating information that Rose drew from my chart. But as she explained during the session, hours and hours could be spent even working through the details of a single natal chart. We covered a lot of ground, and I learned more about astrology than I expected, but that is just the tip of the iceberg. To give you a bit more from my road test, here is what I think you need to know if this interests you, and really, why shouldn't it?
First and foremost – again from Rose's site – "It's important to remember that man isn't fated by his astrology chart, we all have free will. Astrology isn't a religion or a prescription, nor should it be used as such."
Astrology is an ancient study that focuses on interpreting how the universe, specifically the cycle of the planets and moons in our solar system, affects the individual.
Having your Natal Chart read means getting an understanding of who you are as a unique individual under the astrological system based on the exact positions of the planets/sun/moon when you were born. That chart stays with you for life.
Astrology doesn't dictate your life. It simply points out the potential under which you were born and offers paths to realizing that potential by understanding your strengths and weakness.
I feel strange sharing the intimate details about my chart here, and that's really not what this post is about. All I'll say is that the information was accurate to a fascinating point. It connected to colors I respond to and hate; feelings that I have but never share; my weaknesses in my relationships; even general activities that case me great anxiety all came up.
But most importantly, some of the things I learned confirmed feelings and hopes that I have for myself – they gave me confidence in my chosen vocation and a drive to push further into the territory that has always felt right to me. There's a relief in that feeling but there's also a motivation.

So do I now believe in every aspect of astrology? No. Not yet. I still have 9,999 questions to ask Rose. But am I open to and fascinated by the practice? Yes. And has that open-mindedness already lead to growth? Definitely.

You can contact Rose through her website to learn more about her variety of services, background in astrology, and the awesome fact that it all came from a closeness with her grandfather, an inventor and NASA employee.