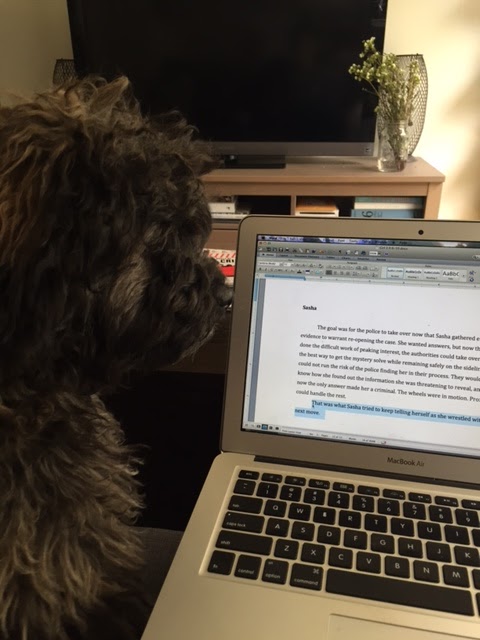 Tuesday was a tough day. I had a meeting about my writing and did a lot of thinking about my writing and beat myself up about how much writing I've gotten written lately. It was just one of those days where you have a thousand different feelings and they all amount of the headline – "I feel overwhelmed." And what do you do when you feel overwhelmed? You come up with a thousand things to explain why you are so overwhelmed. Forget actually trying to relax for a minute. Your time is way better spent making a list of things that make it so that you can't relax. And what is the number one item on that list, always? I don't have enough time. Once you hit the time problem you're only seconds away from the next totally counter-productive activity: the blame game.
Why don't I have enough time? Because of these five evil things.
On Tuesday one of those five evil things was my puppy, Louie.
Before you ooo and aaww and puppies are the best and you just can't let them control your schedule let me tell you that you're wrong and you're right.
You're wrong because cute as they may be puppies are a giant, giant time suck that you have to factor into your schedule. You can't get a puppy that you choose to raise and train yourself and then six months later be shocked that you didn't write two new pilots and a one act play.
You're right about the them not controlling your schedule part. If you want a puppy (which I did), then you have to make it work with your life. If that means the puppy goes to day care two days a week so you can get a full 9 hours of writing in (which mine does), so be it.
But here's the thing – the puppy is not what it's about – or at least that's not what it's about for me. Some of most productive people in the world have dogs and some of the least productive people in the world don't. My dog is not my problem.
I think my "problem" is that I added a big, new element to my life and am still adjusting to how that factors in to whole puzzle. Louie makes most days better. Louie makes some days worse. Sometimes that's because he really does, and it's really his fault. Sometimes that's because I'm still learning how to be a dog parents, and it's really my fault.
So when there are tough days over the next few months, I may still do the whole tough day = overwhelmed me = no time = this damn dog! thing, and that will be okay. Louie only knows ten words in English and, "you're slowing down my writing career" are not six of them. But I think in the long run my life will be better/richer/fuller/saner/calmer because I let this dog in and he messed me up a little, and I had to figure out a way to put myself back together. And by "had to" and mean "have to"… It's a work in progress.
Now please enjoy this video of my dog not giving a shit about my schedule for the day.