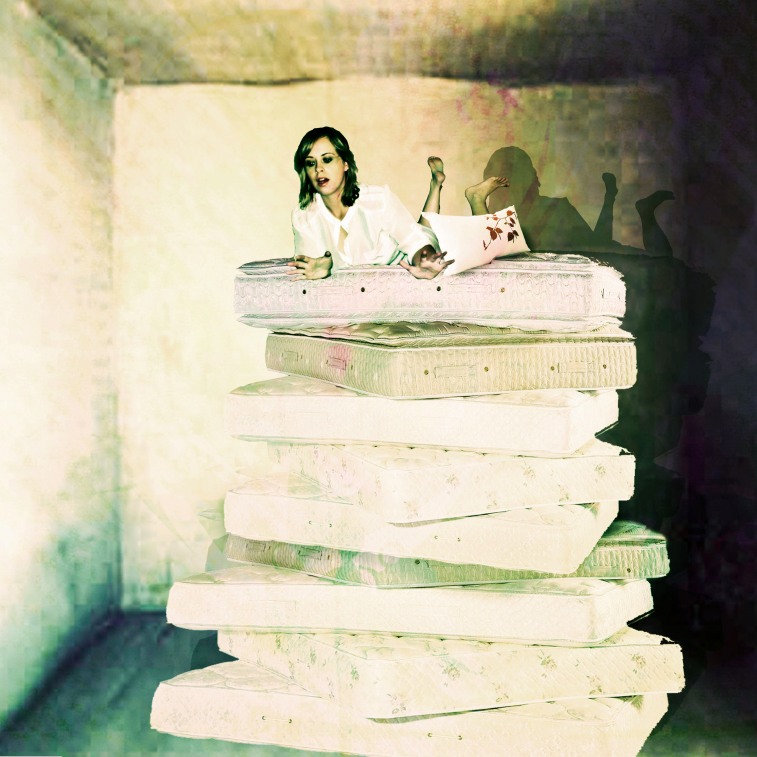 I just spent 17 days on the east coast during which time I slept in 10 beds, on purpose.
It's not uncommon for me to be between five or six sleeping spots during a given east coast trip. Both R and my families are among New Jersey and New York, plus we like to stop and see people in Manhattan, my sister in New Brunswick, my Poppop on the Jersey Shore and R's sisters in NJ and NY, etc. etc. etc. Yesterday I woke up on my couch in Los Angeles after a jet-lag pass-out and had absolutely no idea where I was. Truly. I had to ask my dog. He didn't know either.
So it seems only logical to rank all the beds that I slept in – as a way to recap this trip to end all trips. Literally. I can't do it again. (j/k Moms!)
Bed #10: The XXL twin inside 90, the Boston College dorm where I slept during my 10-year reunion. Wait, you were in Boston over those 17 days?! Yes. Yes I was. Anyway, this slab of plastic was less a bed and more an adult-sized changing table covered by a large tissue. We were also given the equivalent of a very large sweater to cover ourselves with during our stay. Luckily I only "slept" for 4 hours. I love you, BC, but you need to egg crate that shit.
Bed #9: The pull-out couch inside the Hampton Inn of Newark, DE where I slept for one night during my littlest sister's college graduation. Wait, you were also in Delaware over those 17 days?! Yes. Yes I was. So on night one of two I slept on the pull-out instead of in the bed with my younger sister Sara because I figured sleeping space would trump sleeping comfort. I was wrong. Also the A/C vent was in direct line with my face all night long. I now have asthma.
Bed #8: The trundle bed attached to the day bed in the room where R and I sleep when we are at my parents' house in New Jersey. I know. You're surprised #8 isn't the bed at the Hampton Inn where I slept with my sister after I decided the pull-out was unbearable. In fact sleeping with my sister was more comfortable than sleeping with my husband. It's tricky because the trundle is next to but not attached to the bed where R sleeps when he is also there (note: for a period of time he wasn't there and I slept in the day bed alone. More on that in two numbers). Anyway, the trundle is fine in theory but I'm always falling in the crack between the beds and waking up with anxiety about the fact that the bed might collapse at a moment's notice because one time it did.
Bed #7: The bed at the Hampton Inn where I slept with my sister after I decided the pull-out was unbearable. Thank you for saving me Sara. And thank you Hampton Inn for your impressively comfortable mattresses. Try applying that same thinking to your pull-out couches.
Bed #6: The day bed at my parents' house where I sleep when R isn't there.  R (and Louie!!!) met me in New Jersey after my first week on the east coast, so I had three nights of solo sleep in the day bed. A day bed, for those unfamiliar, is a bed that is shaped like a couch. Below is a photo that also features the trundle underneath (aka Bed #8). Our day bed is approximately 25 years old and my parents swear that my friend Greg broke it when were in 7th grade so it has a funky dip in the frame. When I'm sleeping in the bed it seems nice and cozy but every morning I wake up with a terrible pain in my back. This may be because my body is failing me, which is why the day bed comes in at #6 and not higher.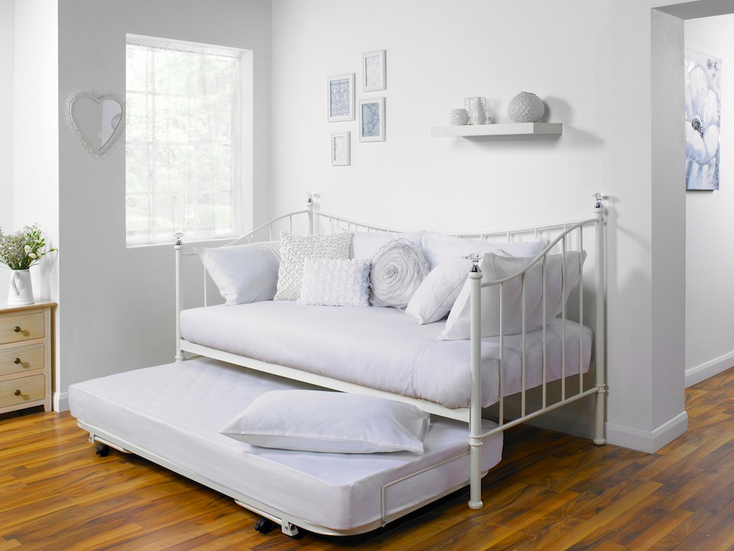 Bed #5: The alcove basement bed at my sister and brother-in-law's house in northern, NJ. My brother-in-law Steve built an incredible bedroom/living room/bathroom and storage space into their home in a lovely hamlet of Northern, NJ. The alcove bed is named as such because it is cleverly built into a little nook in the wall. The only reason it doesn't rank higher is because it is a little high for my 5'5″ frame, and I was sort of afraid I was going to fall out all night long.
Bed #4: The bed in "our room" at my in-law's house on Copake Lake. A lot of people claim "our room" at "The Inn at Copake Lake" – my in-law's home in Columbia County, NY. For me it's not just that the bed is super comfy and the bathroom is en suite. This bed holds sentimental value because the first time R took me to Copake he started a fire in the fireplace without opening the flue and the entire house filled with smoke. It was so romantic. The smell is long gone, but to me the room will always have a little scent of fireplace aka love.
Bed #3: The queen bed in the second room at my Poppop's beach house in Manasquan, NJ. Manasquan is my special place, and the second bedroom is the best of the bunch (the bunch being 4 bedrooms and 5 beds inside a house the size of a single master bedroom). It's not that the bed is particularly spectacular, but I love waking up on the shore so much that it trumps mattress quality. You can smell the salt air even through the windows, and we always start the day with a long walk to the water. I spent many summers living in the second bedroom eavesdropping on the awesome older kids walking home from The Osprey after 2AM. I wanted to be them so badly…and then I was them and it was amazing. Now they annoy the crap out of me while I'm trying to sleep. Ah the circle of life…
Bed #2: My nephew Brett's bed at my sister and brother-in-law's home in Westchester, New York. No technicalities or sentimentalities about this, it's just a damn good bed. I think it's a queen but it feels like a king. The room decor is outstanding, even though it's inhabited by a 13-year-old. Plus it has an en suite bathroom with what has to be the world's greatest shower. In my next life I want to come back as my nephew Brett.
Bed #1: The king-sized 1,000,000 threat count sheet-covered sleep number mechanized bed in our room at the Glasbern in of Fogelsville, PA where my friend Katie was married. It was oh-so-sadly my very last bed, but that's probably a good thing because if it came in around the time of Bed #4 I would never have left. Thank you for getting married at this place of perfect beds, Katie. I regret that your wedding festivities were so fun that I spent very little time inside the bed, but what I remember was magic.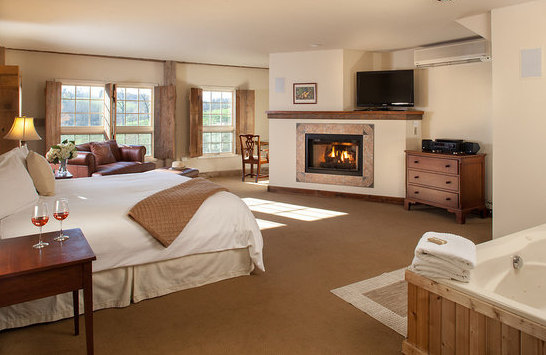 And there is it: Arrival in NJ, down to graduation in DE, up to reunion in MA, back to vacay in NJ, out to the Jersey Shore, up to Northern NJ, over to upstate NY, down to Westchester, NY over to Eastern, PA for the wedding and finally back to Newark airport for the flight home. I will spend the next several weeks recovering.
Oh, and technically there should be a #11 – my seat on the Virgin America red-eye from LA to Newark, but as I now know from my experience in Turkish Airlines Business Class, chairs are not beds, even in the sky.