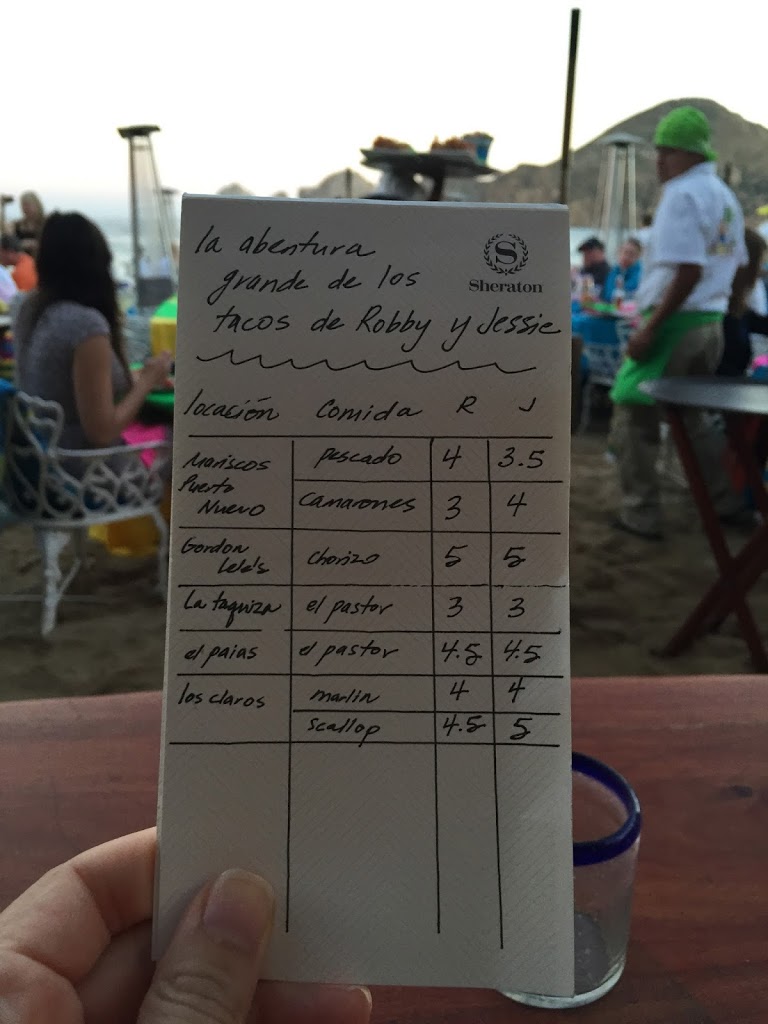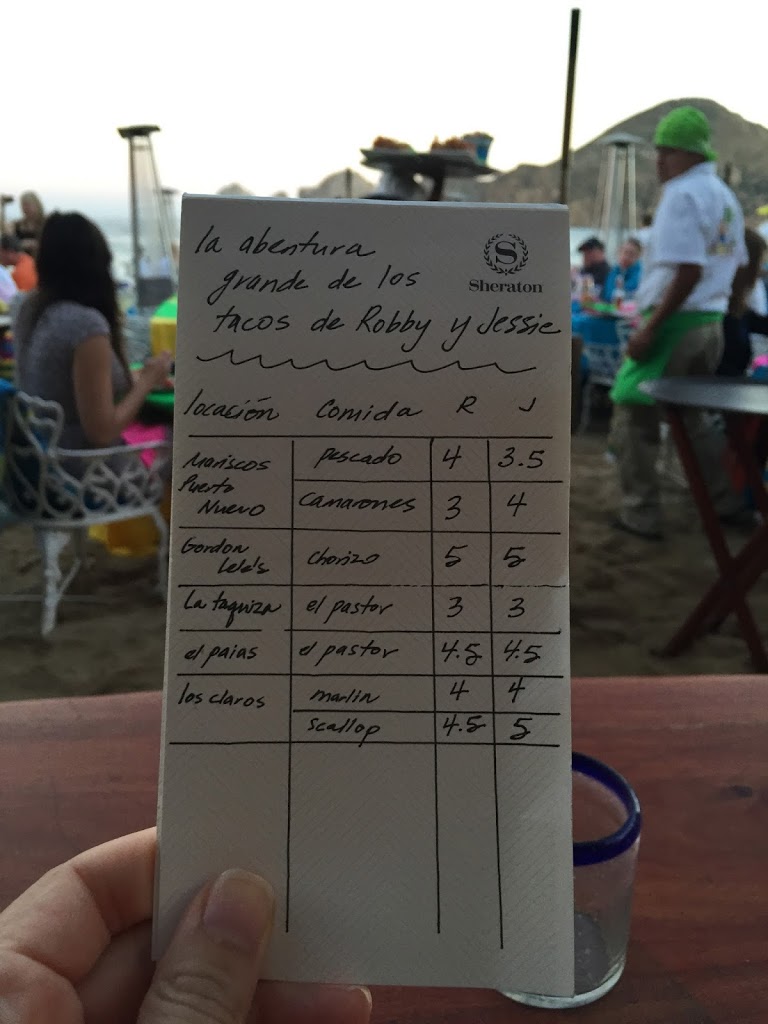 I have many loves but cities, food and incredibly well-organized ranking systems are definitely among the top three.
Halfway through our recent belated Mexico-moon to Cabo San Lucas, I combined those affections into an afternoon aventura to taste as many of Baja Sur's famous Baja-style tacos as possible. Using a combination of Internet research (thank you Yelp, Serious Eats, and Conde Nast Traveler), a city map and the ten words in Spanish R and I have mastered ("Puedes hacer un taco? Si, solamente uno. Si, pero estomas en un gran aventura de los taco! Todo la dia! …Ok, dos tacos.), we conquered this street cuisine. Here are our six stops in four hours and our reviews:

1. Mariscos Puerto Nuevo (corner of Cabo San Lucas y Camino de Conejo) – shrimp taco, fish taco, free seafood chowder
We found this abandoned lot-turned "restaurant" looking for another taco joint that is now closed, and it was the best misstep of the trip. Not a single tourist was sitting among the plastic tables and chairs, the waitress served us beer in a plastic cup because they don't have a liquor license, and the meal started with free cups of the most delicious seafood broth I've ever tasted. The tacos – three shrimp and three fish per $5 order – were heavily fried and breaded, but it was a light batter, and I was too in love with the whole atmosphere to care.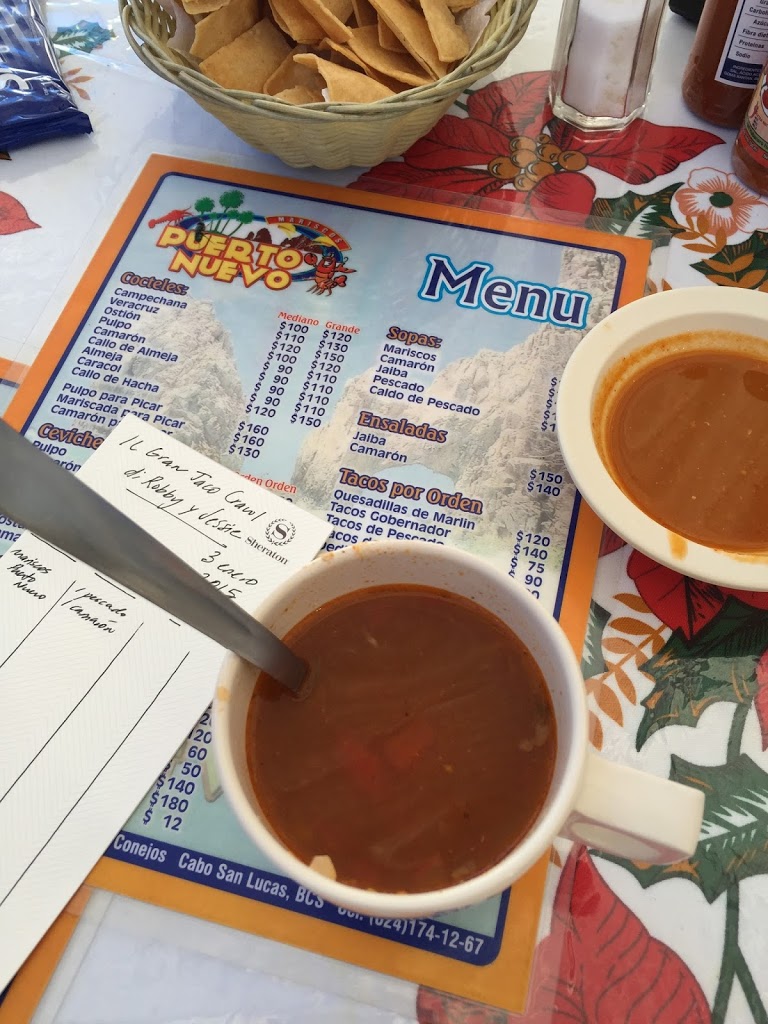 Puerto Nuevo's free seafood chowder appetizer

2. Gordon Lele's – the chorizo
Every site I read mentioned Gordon Lele's as a must-stop on account of Gordon Lele himself, a Beatles-obsessed, shower-cap wearing, lounge singer whose shop is covered in wall-to-wall magazine tears of 60's music mania. Not only was the chorizo taco an instant "5" for both R and me (pay no attention to the fire red color of the meat, it's fine), but we were serenaded by Gordon on account of our recent marriage. Magic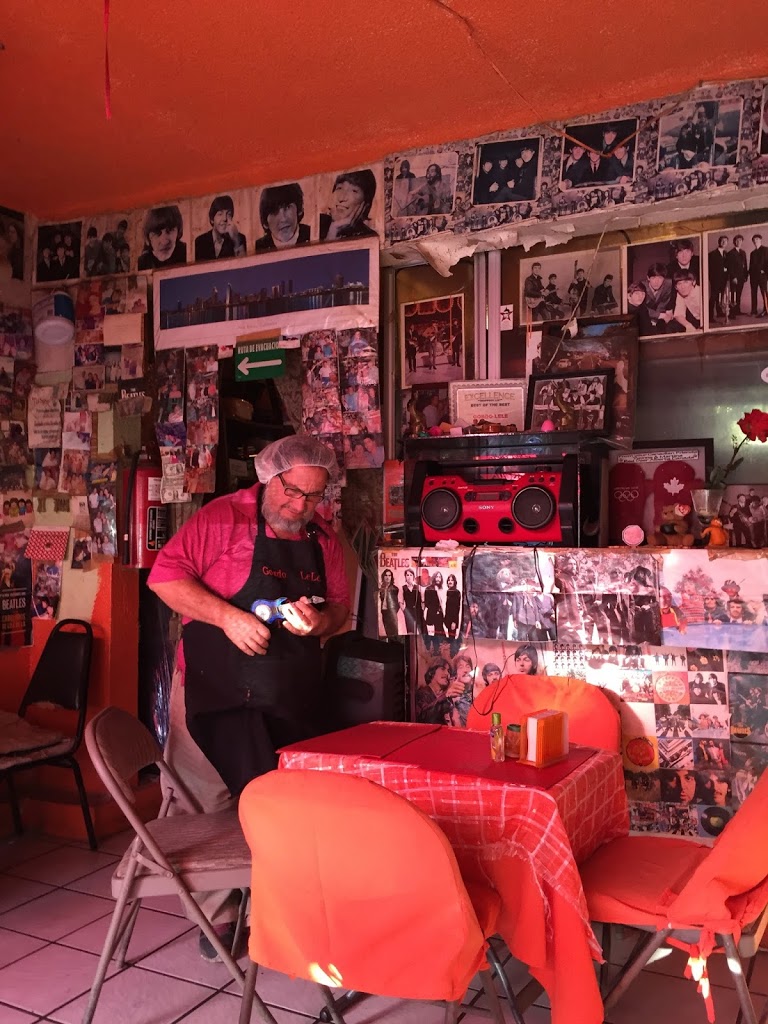 Gordon Lele serenading with a mini guitar
3. La Taquiza (no site, btw Lazaro Cardenas and Mariano Matamoros) – the el pastor
I messed up and had us stop here because I thought it was the place we were looking for when we stumbled upon Puerto Nuevo. That said the el pastor – the famous vertical-roasted pork of Mexican cuisine (think Mexican Gyro meat) – was delicious, especially with the thin slices of pineapple included in their version. R thought the meat was a little dry, but I'm an easier sell.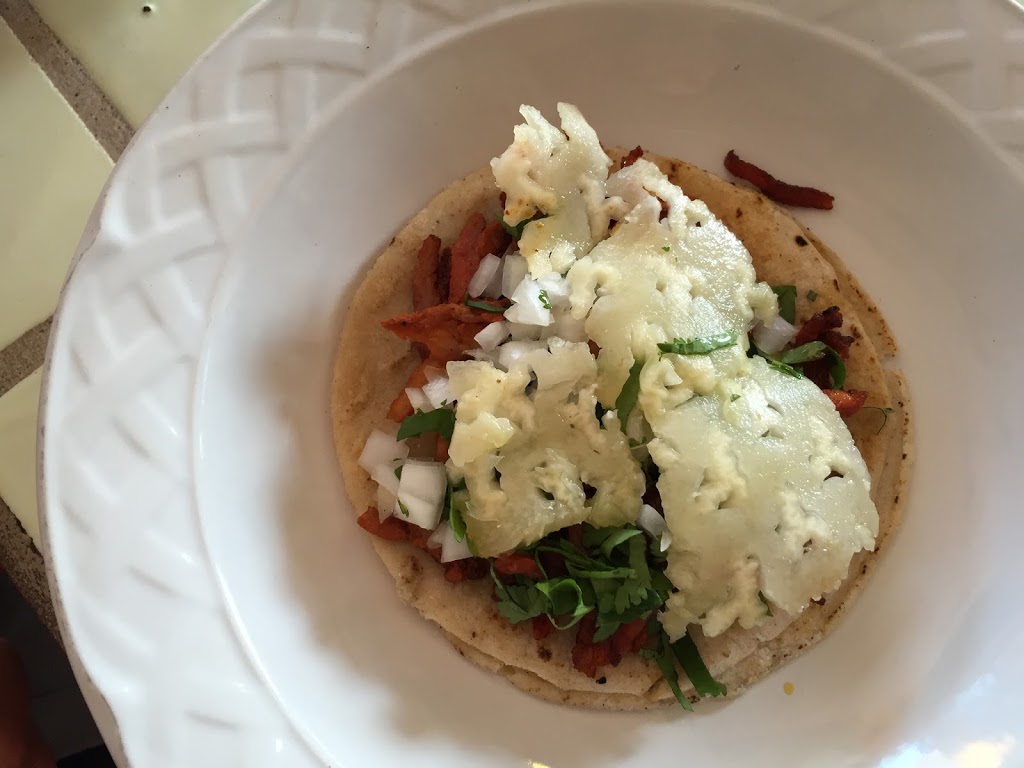 al pastor, taquizo-style

4. Tacos El Paisa – el pastor, #2
We needed something to compare the first el pastor to slash we love el pastor and wanted more tacos. This second spot definitely outranked the first. Juicier meat, better spice, and a really hysterical greenhouse where they keep the condiments.
Speaking of… a quick note on taco condiments in Mexico
More often than not you receive a tortilla with your choice of filling on top, sans any toppings when you order a taco. Each restaurant has a huge selection of things to fix your taco just as you see fit: guacamole, crema, salsa, cucumbers, peppers, onions, fried onions, pickled onions, tomatoes, and my favorite, the cabbage slaw. This is a little like a make-your-own Bloody Mary bar in that I'd rather have it the way the chef would eat it (slash I don't know how to make a Bloody Mary), but it's fun to experiment with all the different options, and by taco #9, I had it down.

5. Los Claros – fried scallops, smoked marlin
Every single local we talked to about our aventura mentioned Los Claros as "el mejor" and they were not wrong (also, a big sign outside the restaurant says so). This spot is off the tourist path and into the neighborhood, which is a treat in and of itself. The smoked marlin taco is like nothing I've ever experienced (marlin is a famous fish of Baja Sur, and the smoking preparation is top notch), but the scallops took the cake for us both. Perfect batter, perfect amount of fry.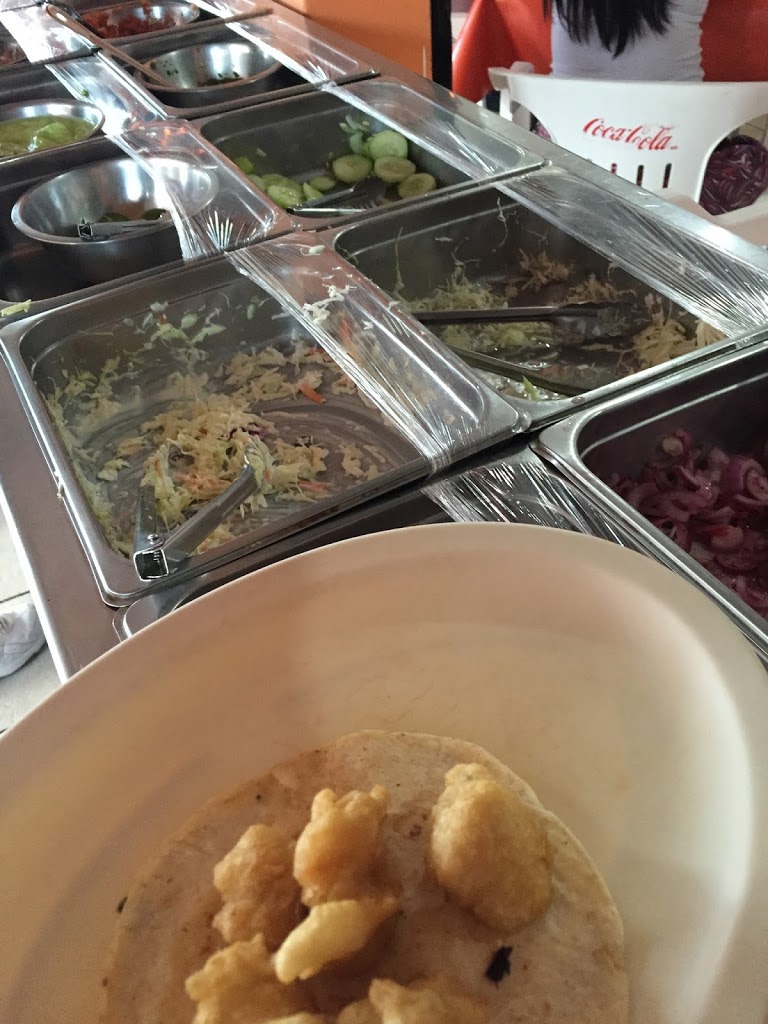 the great scallop taco and the great condiment bar at Los Claros
6. Tacos Vicky and/or Tony (btw Leona Vicaro y Morelos on Lazaro Cardenas) – fried shrimp, chorizo
We met an American from Wisconsin who lives part time in Cabo at a bar where all the seats are swings. That is a grammatically tricky sentence so to be clear, she doesn't live at a bar where all the seats are swings, but she should. She recommended Tacos Vicky, which is now called Tacos Tony saying it was even better than Asi y Asado (consistently voted #1 in Cabo but unfortunately not accessible via our walking tour). She is the reason we ate three more tacos around 8pm after we both proclaimed ourselves too full to ever eat again. Tacos Vicky/Tony wins in the fried shrimp category and for having fried jalapenos and onion rings in their condiments bar. It also wins for being a block away from a fried churros stand that we hit after the tacos because we cannot help ourselves.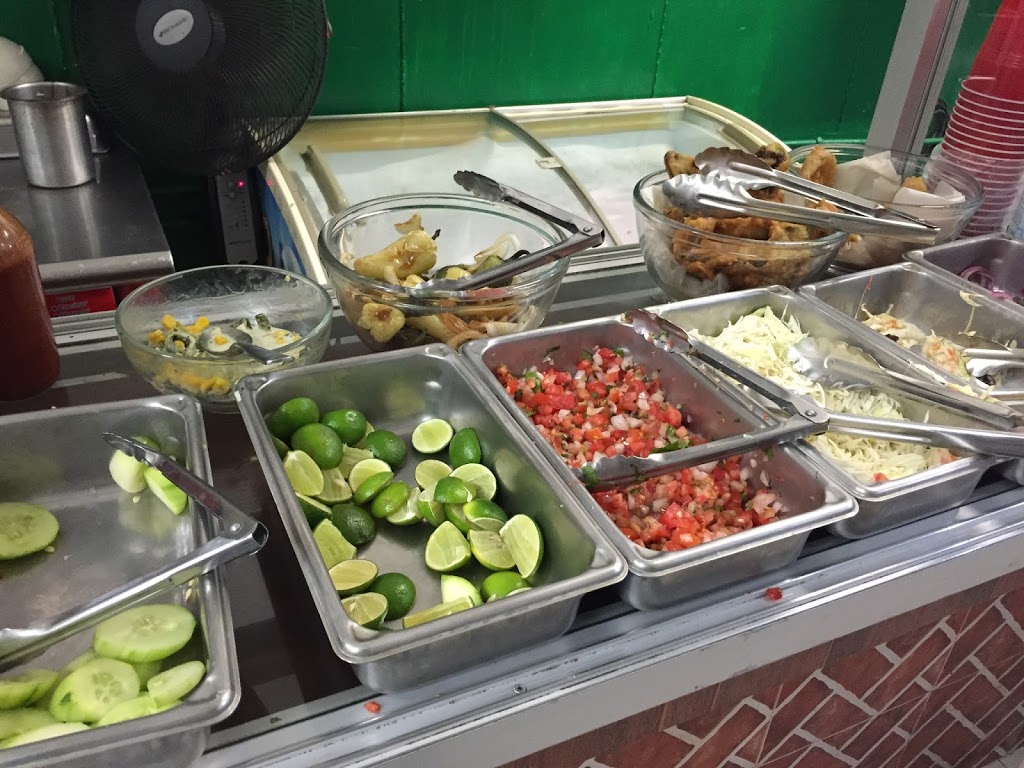 tacos vicky and/or tony: onion rings FOR FREE

7. El Pollo de Oro – fried chicken taco
We ran out of time to hit this local favorite, and it will haunt R for the rest of his taco-eating life. So many people recommended Pollo de Oro, but they said the tacos were the least famous thing on the overall incredible menu, so we waited to stop in there until it was too late. On the menu: a fried chicken taco. Yes, we have learned our lesson.
The results: "5" for both the chorizo at Gordon Lele's and the scallops at Los Claros. If it were up to me we would have come back the next day for a second round at all the places we missed, but we had to save time for ranking Mezcal shots at hotel bars and remixed American rock songs overheard in taxi cabs (they are obsessed with Sweet Home Alabama down there!). But the bottom line of the whole ordeal: running around a foreign city with nothing but a map and a ranking grid written in a broken foreign language is a blast. I recommend it for any and every trip so long as you are prepared to get lost, feel like a real American, and wear pants with an elastic waistband.
Until next trip…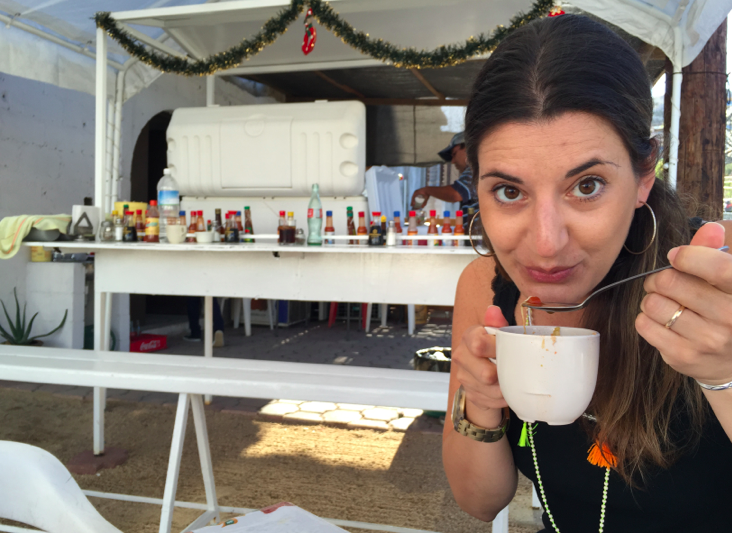 yes, after all that the seafood chowder was my #1 item…