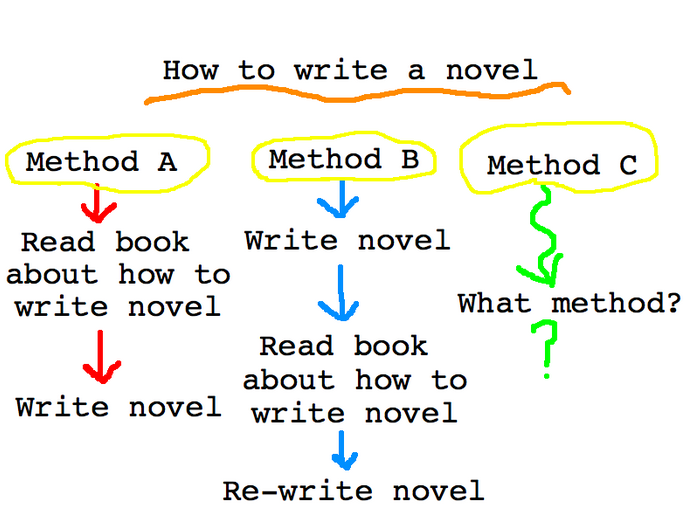 I am writing a novel. I can't say much more about it right now other than that it is not a blog post, or a TV pilot or a screenplay or a sex story or anything else I at least have a small amount of experience writing. It is also not due next year, which feels like the only appropriate amount of time one should have to write a novel – a full year, or two. And yet now that I am officially 100 pages into this novel, I have the world's best unsolicited advice. Here it is:
You should not determine how many pages you can write per day and set a schedule based on that number before you have written the amount of pages you can actually write per day for at least seven days. Because you'll go in thinking the number is 15 and realize after five seconds that it's 3, and that will really blow your timeline.
You should not read another novel or really another book of any kind while you are writing your novel. Articles are probably risky too. You know what, just stick with tweets and Instagram comments which, let's be honest, was all you were reading anyway.
Don't buy new clothes unless they're leggings or tent dresses. You do not yet know if you will lose 20 lbs because you're too stressed to eat or gain 20 lbs because you're so stressed, all you can do it eat. And "my novel wardrobe" has yet to achieve the legitimacy of "my maternity wardrobe." Yet.
Don't make any plans that start before 7:00pm on any given night. Because try and try and try as you might, you will not get up, take a shower and do you hair on any given day, which means you'll have to do it before you go out, which means you'll have to back those plans up by an hour because your hair require serious dry-shampoo-and-a-hot-rod action, which means you'll do all that, decide it still looks shitty and finally get your ass in the shower, meaning you should really start at 5:00pm – and it's scienficially impossible to write 3-15 pages of anything by 5:00pm.
You should not tell anyone you're writing a novel. Because then they will kindly and sincerely check in on your progress on that novel. And you'll have to either hear yourself lie about how well it's going every time they ask or hear yourself tell the truth about how hard it is every time they ask. You should instead pretend that you've been asked to participate in a three-month, Top Secret project by the CIA. You definitely can't talk about where you'll be or what you'll be doing, but if you look like you just got a facial then it's because the CIA requires them. And no, I don't know what you're supposed to do when the novel comes out and people are like, "why didn't you tell me you were writing a novel." That's a different blog post…that I'll write after I finish my next novel…that you won't know I'm writing until it's done.