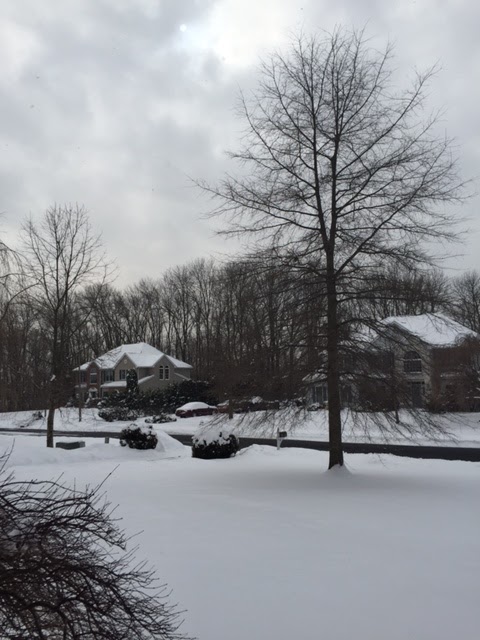 Hello from my parents' house in New Jersey where there is 8 inches of snow on the ground and everyone is home from school! I'm here for an extra day because my flight back to L.A. after my sister's bridal shower and bachelorette festivities was cancelled, and I intend to make the most of this day behind the drifts with my second little sister and my mom. Here are my recommended survival tips:
Have your sister make you pancakes using this genius Bisquick invention where all you have to add is water.
Drink seven cups of coffee from your Mom's Keurig because it's right there and it makes the coffee in ten seconds, and it's 9 degrees outside so why not?
DRINK ALL THE LEFTOVER BLOODY MARY MIX FROM YOUR OTHER SISTER'S BRIDAL SHOWER!!!
Go to watch a movie on HBO On Demand. Realize you don't have HBO On Demand. Contemplate going to the Stop n' Shop to get a Red Box movie. Decide against that. Watch You've Got Mail. 
Go on an undercover mission in 8″ of snow with your sister to discover where the cat that spends its days on the cushion on your parents' porch actually lives. Find out he lives UNDER YOUR HOUSE. Passionately debate inviting him to live in your house even though it's not your house anyway. Lose. Let it go.
Contemplate making snow angels, but the snow is just so wet… Contemplate shoveling, but the show is just so heavy… Contemplate taking lots of pictures outside in the snow, but everyone already has better ones on the 'Gram…
Make fresh pasta from the ball of pasta dough you stole from your sister's bachelorette cooking class!
Facetime with your husband and puppy in L.A. where it is 80 degrees and sunny.
Secretly be happier that you got to stomp in the snow with your sister for the first time in years.
Celebrate by drinking hot chocolate made with soy milk while wearing seven layers of clothing and crying at You've Got Mail because you're a lactose intolerant 31-year-old emotional basket case.
HAPPY SNOW DAY EAST COAST. Thanks for having me!