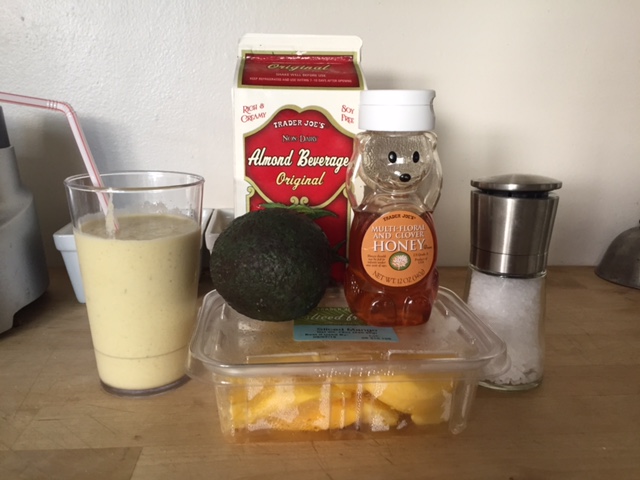 This morning I invented the world's best breakfast smoothie recipe, and I thought it would be rude not to share it with the rest of the world. I have been looking for alternatives to the $8.00 cold pressed juice that was recently elected mayor of Los Angeles, and this combo of fruits, veggies and nut milk feels like a strong contender. No, it does not have kale, but we can't all be perfect.
Makes one large smoothie. 
1/2 cup mango (I dice it for ease in the blender)
4 ice cubes
1/4 cup non-fat Greek yogurt (I use Fage because I like to brag that I know how to pronounce it)
1/2 cup almond milk (coconut milk will also work)
1/4 of a pitted avocado (so cut it in half and then scoop out half of that half)
1 squeeze of 1/2 a lemon (that's probably about 1 tbsp if you're using a lemon juice container)
1 tsp of salt
1 tbsp of honey (optional for a little sweetness)
Blend on high then enjoy while writing a blog post about making a smoothie instead of doing the work you're supposed to be doing! Happy Hump Day.