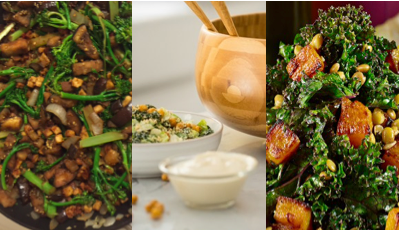 Back in action after a few weeks off the Sunday "meals for the week" cooking wagon. I will confess that I was in a very anti-cooking mood after coming home from a lovely weekend away in Dana Point, but I hunkered down enough to listen to R's recipe suggestions (all the while saying, "I don't know…I'm not hungry…I don't want to cook"), slugged over to Trader Joe's (all the while complaining about how hot it still was outside), and pushed through the prep process (all the while eyeing the leftover bottle of Vino V Chenin Blanc from the weekend). But in the end I have three plus meals for the week and a slightly better attitude (thank you Vino V).
Here is what we cooked, complete with some actual pictures by me this time around.
Roasted Tofu Stir-Fry with Eggplant, Broccoli & Onion
I made most of this up myself but followed a recipe for the roasted tofu because I find non-roasted tofu can really destroy an otherwise lovely stir-fry. Here is the recipe for that tofu from another dynamite recipe for a Thai Tofu Quinoa Bowl ala Clara Persis.
For the rest I simply:
-Put some toasted sesame oil in a hot frying pan (I don't know, maybe 1 tbsp?). Added 4 cloves of garlic (pressed) and a bunch of fresh ginger (grated, maybe 2 tbsps) into the pan. Threw 1/2 a chopped onion in then waited 5 minutes for it to cook down a little. Added diced eggplant (1 eggplant) and baby broccoli (1 package from TJs), then more toasted sesame oil. Let that all cook for 3 minutes ish. Added the already baked tofu, some soy sauce, some hoisin sauce, some red chili sauce and more grated ginger. Watched until it looked cooked but not mushy and then served it over brown rice. How do you say Voila! in Mandarin?
Kale and Butternut Squash Salad with Lentils
This is from the trusty Isa Does It cookbook that we use once a week (thank you forever Liz). R made the entire thing but I crushed the garlic which is very hard because you have to remove the film/shell/skin and it hates that.
Vegan Caesar Salad Dressing
We were going to make this other recipe that called for a cashew-based cream sauce but then I was being cranky and decided I didn't want that other dish, but R had already soaked the cashews because he doesn't get cranky so we made this salad dressing instead (fine he made it…and suggested it…and helped me pick out veggies at TJs that would make a nice salad with it).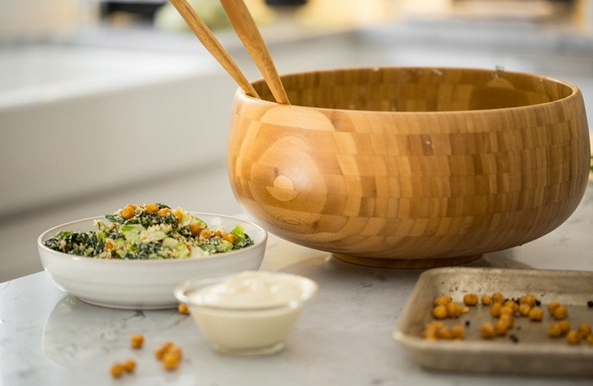 Here is that recipe from the very lovely Angela at Oh She Glows.
I bought romaine lettuce, grape tomatoes, a cucumber, an avocado and some brussels (no idea there was an "s" at the end there) sprout slaw to toss together.
ALSO – I found this "Popcorn in a Pickle" situation at the TJs and bought it immediately – as did hundreds of other smart suckers like myself, said the TJs man – because look how cute and weird it is!
Report to come after I eat it. Right now it is 9:21pm and I am going to bed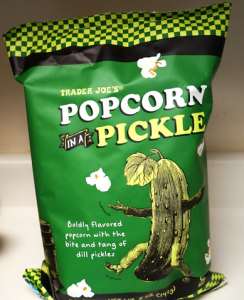 . Happy weekend everyone.
For More Like This Check Out:
Meals for the Week 7/12 Edition: Chipotle Barley Salad, Asian Slaw and Crunch Hummus Wrap
Meals for the Week 6/22 Edition: Vegan Zucchini Soup, Brown Rice Mexican Bowls & Healthy Crunch Salad
Meals for the Week 6/28 Edition: Coconut Chana Saag, Quinoa Tabbouleh and Olive Tapenade