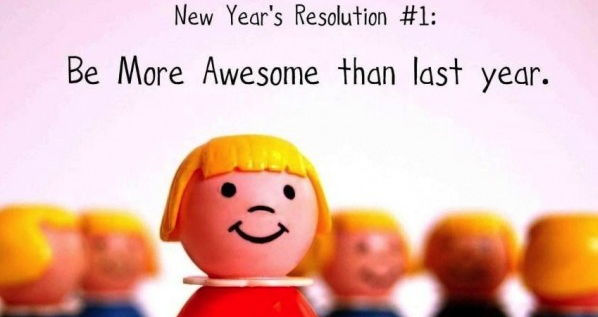 Hello and Happy New Year after a very long blogging break. I got caught wrapping up 2014 work and prepping for a big adventure to Mexico for the turn into 2015 (#20NothingsTravels recap to come), but I'm back to talk resolutions, as is my obligation as a blogger.
Last year I made a list of some really lovely resolutions for 30-Nothings. It included things like "Print your photos!" and "Buy one niece piece of furniture" and "Learn what "The Cloud" is and start using it to back-up/store your music/documents/photos/etc." They were really great ideas, and when I look back on them now I'm really surprised by how helpful they might have been had I actually followed any!
And so this year I'm foregoing the deep stuff and focusing on the same old crap that every single person resolves to do throughout every single new year (except only for a month): I will complete a Dry January, I will not eat dairy for the entire month, and I will not buy a single new item of clothing for until February 1st.
Why Dry January? Because I've never done a dry month, and I think it's an important test of willpower. To be clear, there is nothing wrong with alcohol and I believe a glass of red wine has more health benefits than detriments. Also, I only drink socially and even then it's more for indulgence and group following than actual desire to feel drunk. But I do not need alcohol for a month. And yet every time I've tried to do a "Dry Jan" I've quit on account of some dumb glass of wine that I had to have because the wine bar was way too sultry-looking to just drink tea. Enough. I'm a grown woman. If I can't do this, then we've got bigger problems.
Why No Dairy? Because it hurts my belly but I love it too much to pay attention to that fact. After six days in Mexico enjoying queso con every single meal, I now know that my "slight allergy to cheese" is an actual allergy to cheese. I'm looking forward to finding out what it's like to not feel like my stomach is going to explode after I eat.
Why No Clothing? I'm what some might call famous for self-imposed shopping bans. Last year I went three months on a dare from R. I learned lots about myself, my shopping habits, and the amount of clothing I already own. I subsequently forgot all of that and now own 1K things that I don't need, again. Let's see if I can't finally learn my lesson with another break from the $30 rack at Shopaholics Sample Sale (my favorite store in L.A., hands down).
Yes, I will also try to read more and Facetime more often with friends, and volunteer once a month and lead my life with less fear, and all those other things on everyone other list, but I've decided that 2015 should be the year of not taking my own bullshit. Let's see if I can't start with a one-month ban on some of my most unnecessary vices.
Considering I bought a ridiculous serape, ate a cheese-stuffed pepper and downed three margaritas on January 4th, I'll be taking this challenge all the way to February 4th. Wish me luck.