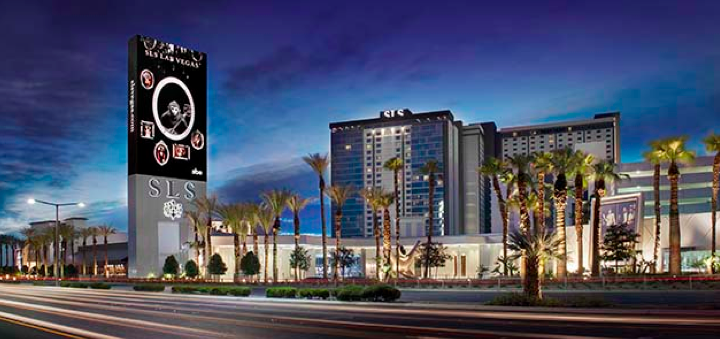 Sunday night R and I had a somewhat impromptu stay at the new-ish
SLS Las Vegas Hotel + Casino
. It was somewhat impromptu because we planned to go to Vegas to visit my Dad who was there on business, but only decided on the SLS after we discovered their INSANE DEAL on a room ($53 base price on account of a promotion). I love hotels, and considering we live five blocks from the L.A. version of this Sin City expansion, I thought we should check this one out. Also it was $53 dollars. It wasn't until we booked the room that R stumbled upon the
awful Yelp reviews
. It wasn't until Monday morning that we understood why you can get a room for $53.
I do very little negative reviewing on this site, but as a travel and hotel lover, I thought this was worth mentioning. Below is WHY I would give the SLS TWO STARS on Yelp (if I Yelped) and below that is what I might do to fix it (if this writing thing doesn't work out and I end up an International hotelier).

MY TWO STAR REVIEW:
It is not really located on The Strip – Yes, semantically speaking the SLS sits on Las Vegas Blvd, which is what defines the strip, but it's the furthest north stop on the Monorail, which is conveniently attached to the hotel but not wildly reliably in terms of service. Factor in cab fare to and from any spots on the actual strip and do not venture out into the area surrounding the hotel.
The vibe is nothing to write home about – It's hard to tell if they were going for accessible opulence or just didn't invest enough to accomplish actual Vegas glam. In th end it just looks like a NYC ad agency circa 2001. My biggest issue with the design is that there are low ceiling that are unfinished so all the duct work shows making it feel like you're partying in your buddy's almost-finished basement.
 The service – It just wasn't up to Vegas par. We waited 35 minutes in line to check into our room. We called down to ask questions about one of the restaurants and just never got connected after three tries. The Griddle was the only breakfast option open on the Monday morning of MLK weekend (buffet was closed), and they were short staffed so people waited over 45 minutes to even be seated.  We didn't require any service beyond all that, but I would venture to guess it would be slow and problematic.
It felt empty – Apparently the hotel was completely booked, and yet when we hit the casino floor around midnight and LiFE club around 1:00AM, both were empty. It all contributed to a bummer of a vibe.
MY RECOMMENDATIONS (based on zero years hotel experience, mind you):
Infuse it with a stronger identity – The SLS is the site of the former Sahara, an incredibly iconic Vegas outpost known for its ties to the music world. It housed the famous Casbar Lounge. It is also the only place The Beatles would ever stay when they visited Vegas. That's really cool, but there's no sign of it at all in the new creation. The SLS would be better off doing what The ACE Hotel does when they take over a vintage property – infuse all the design aesthetic with the spirit of the former spot. This could even translate to entertainment. The SLS could be the only spot on the strip with an awesome, old school dinner dancing night like at the old Rainbow Room in NYC, harkening back to the days of the Rat Pack. Bottom line: if they're not going to do The Cosmopolitan as well as The Cosmopolitan does it, go another route. The number one thing consumers look for in a product is authenticity. The Sahara offers than in spades.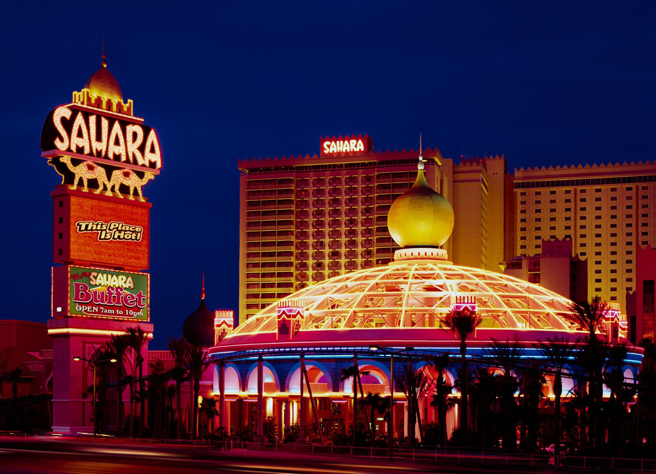 SLS LA to SLS Vegas shuttles? – Be the spot for gorgeous, young LA kids with money to spend by running luxury bus service from LA to Vegas. I have no idea what the economics on this are, but if I could take a sweet bus to Vegas for $10, I'd go a lot more often.
Make the food a bigger deal and somebody call David Chang – There isn't one signature restaurant that will blow your mind inside the SLS. Katsuya and 800 Degrees are both excellent, but you're not going to the SLS from another hotel just for that meal. This spot needs a great food gimmick to draw crowds. I don't know what that is, I just know that it's necessary and David Chang could probably figure it out.
 Go over the top on the service – This is the category with the most complaints on Yelp, so this is what the hotel should address first. Could they do weekend planning and arrange all your meals and activities the entire time you're in Vegas? SLS-branded limos to drive you around the rest of the strip? Free snack packs in every room to help you survive your night of drinking? It could just be an optional turn down service that leaves you two Advil, a bottle of water and the most amazing cookies in the world on your pillow? The DoubleTree by Hilton gives out warm chocolate chip cookies when you check in. Do you know how I know that? Because at least a dozen people have told me over the years.
And finally – I think they should put a MASSIVE Korean Spa inside the hotel – there's nothing more LA than a scrub at one of the million K-Town spas. Bring that to Vegas. And after that, bring even more "totally LA" things. Like how can you re-create a beach inside/at a hotel? Or a hike? Or vegan food? Or 75 degree sunny weather everywhere, always. Some of these things are ridiculous, but that's just the point. Be the New York, New York spot, but LA style.
To be clear, we did not have a BAD stay at the SLS Vegas. It is a comfortable hotel with modern, interesting rooms, and for $53 (plus tax and $28 resort fee, mind you), it was well worth the experience. But will I stay there again? No. In fact I'd rather pay more for a better experience, especially given the location. But there are genius hoteliers behind this venture, and I sincerely hope they find a way to bring those stars from two to five before my next trip back.